Tudor teams up with a third generation French weaver on fabric watch straps
Tudor teams up with a third generation French weaver on fabric watch straps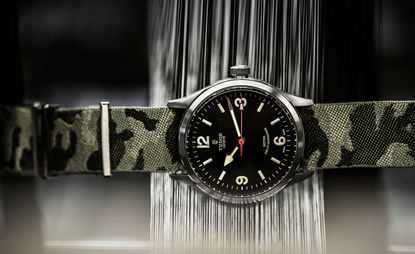 (Image credit: press)
Back in the early 2000s, watch aficionados developed a craze for wearing cheap NATO straps with their Rolex submariners. Rather like pairing Manolos with a Topshop handbag, or washing down a filet mignon with a Diet Coke, it was a mix and match trend that still shows no sign of dying.

With this in mind, Tudor, Rolex's sister company, has spent the past five years creating its own versions of the military best sellers. 'The initial idea was to find a strap that could match the bold colours of our Heritage Chrono (opens in new tab), introduced in 2010,' says Davide Cerrato, Tudor's design director. 'Fabric was an excellent option as it was already popular in hardcore watch collector circles.'

Tudor's search led it to Julien Faure (opens in new tab), a third generation weaver and one of the last of his kind in France, if not in Europe. Faure's grandfather founded the factory of the same name near St Etienne in 1864 and today it operates more than 50 looms, some of which are 150 years old. It specialises in silk ribbons and labels for the likes of Céline, Lanvin, Hermès and Prada, ecclesiastical ribbons for religious orders, (among them The Vatican) and passementerie for folkloric costumes all over the world. Faure's jacquard weaving technique stood out, says Cerrato, since it 'allowed for extremely sophisticated patterns, great durability and comfort'.

Giant, antiquated looms, which would have been put out to pasture under anyone but Faure's care, race and spin like a young geldings. Since 2009, the pair has produced nine straps created on looms dating back to 1880. Silk versions, which appear on the Heritage Advisor and Clair de Rose watches, are the most complex as they require hand-woven holes, but most come in waterproof and durable polyester. New last year was a camouflage motif in polyester and cotton. It debuted on a Heritage Ranger has become a firm style leader.

A snip at around £150, the straps have become a symbol of the house, which now has the reputation for democratising the high quality Swiss sports watch. 'Our aim was to bring content, refinement and added value to a segment that was previously neglected by watchmakers,' says Cerrato. In that Tudor has succeeded.
Emma O'Kelly is a contributing editor at Wallpaper*. She joined the magazine on issue 4 as news editor and since since then has worked in full and part time roles across many editorial departments. She is a freelance journalist based in London and works for a range of titles from Condé Nast Traveller to The Telegraph. She is currently working on a book about Scandinavian sauna culture and is renovating a mid century house in the Italian Lakes.