'Supporting women is important to me': Thelma West on jewellery design and philanthropy
We shine the spotlight on Thelma West's philanthropy initiatives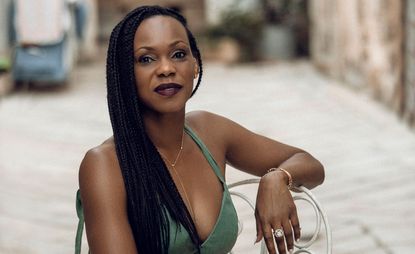 (Image credit: press)
Nigerian-born, London-based jewellery designer Thelma West draws on both her personal history and extensive experience in the industry for a host of philanthropic initiatives. Here, she tells us what drives her work in Nigeria and beyond, and how her own experience as a minority in the industry has affected her outlook.
Wallpaper*: Which issues are key for you and how are you supporting them?
Thelma West: Supporting women in the industry is very important to me. I have always had a female only team and continue to prioritise this hiring structure. The objective here was to create a safe space for more women, providing opportunities to learn and grow in knowledge and experience.

Within the industry and my work, sourcing is also an issue that I take very seriously. Not without its issues, I continue to push for increasingly sustainable practices for the precious raw materials we work with. The people that benefit from the price we pay are important to me.
I'm also committed to supporting communities in my homeland, Nigeria. A portion of every sale we make goes towards paying hospital bills for children in need and educating young women to secondary level. I've also been working hard to support the women of Nigeria as well. This is important for me to share because my first attempt has been a failure. But we must fail sometimes, learn, and keep moving in the right direction. Employment levels are not great in the country and women fall behind on every front. I have spent some time working on a plan for the ministry of solid minerals which focuses on getting women off the streets and into workshops, making jewellery, cutting gems, polishing and more, all based around the resources the country is blessed with. It was not successful but it's still very much a project that is needed, so it's something we will continue to work on and hope there are people eager for genuine change on the other side.
W*: Your interests run from educating the next generation in Nigeria to readdressing the balance in London - how important is it to you for your work to encompass these diverse strands?
TW: Working these issues and causes into my art was the only way that worked for me and my team. It's a great source of joy and satisfaction knowing that when we are successful doing what we do, other people feel it too. Whether it's telling a mother that her child can get the treatment they desperately need, or a young girl that her education is not the first thing to give up when things get tough, it's a responsibility we do not take lightly.

The reality is I feel like I'm doing very little in the face of all the challenges we are confronted with daily in the world, but we keep going knowing that people depend on us.
W*: Can you tell us about your experience as a minority in the industry and how it has informed your actions?
TW: It's been a long hard road, but I held on to embracing hard work, resilience, determination and finding joy in the midst of the climb. I have not achieved my dreams yet, but on the way to that, I feel it is my duty to hold my hand out for someone else who needs a hand in whatever way I can help with their art or life.

I try to find beauty in all I do, and my heritage influences most of that. For example, I chose to display works by African artists in my space, each telling their own story, not only because I see myself in their stories, but also because I am able to showcase these works to more people who get to experience a little bit more than they expected. And who knows, maybe they'll become fans of the artists they discovered or fell in love with at the TW studio.
INFORMATION
Hannah Silver joined Wallpaper* in 2019 to work on watches and jewellery. Now, as well as her role as watches and jewellery editor, she writes widely across all areas including on art, architecture, fashion and design. As well as offbeat design trends and in-depth profiles, Hannah is interested in the quirks of what makes for a digital success story.