A Q&A with Uncommon Matters jewellery designer Amélie Riech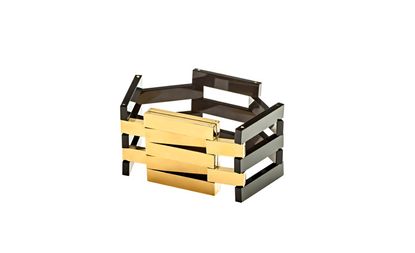 (Image credit: press)
Previously a fashion stylist, German-born jewellery designer Amélie Riech (opens in new tab) decided a change in tack was in order in 2008 – so she set up Uncommon Matters (opens in new tab), a jewellery line with a difference.

Rather than concentrate on the pretty, sometimes twee, aesthetic that tends to be default, she went for the abstract and simple. A pair of earrings might be a lone rod of gold, a ring could be a block of onyx to make a bold statement or a necklace is delicate links of gold.
After collaborating with Paco Rabanne (opens in new tab)for two years, her latest collection – entitled NIV – shows a return to Uncommon Matters full time, with strong, unisex designs. These are pieces that will appeal to those who love artists like Donald Judd (opens in new tab), or brands like Céline (opens in new tab). Minimalism, yes, but there's more to it than that – out of simplicity comes something just a little bit sublime. Here, Rietch gives her own thoughts on the Matter.

Why did you set up Uncommon Matters?
After different activities in the fashion business, I wanted to get more deeply involved with themes that were interesting to me and to create something very personal, with my own hands – things to touch and keep, to collect and to last.

How did your work in fashion feed into the line?
I draw from various experiences. As a fashion designer, I know the female body intuitively. I also have a photographic eye and know which pieces work well in a picture. From my studies of architecture, I am familiar with construction detail planning and I have developed my spacial sense and sculptural approach.

Can you tell us of the significance of the name?
I was looking for a brand name that leaves a lot of 'latitude' for different projects and ideas. Uncommon Matters is word play – it's ambiguous and allows you to read between the lines.

How would you describe the aesthetic?
My work is situated at the interface of fashion, art, design and arts & crafts and my design combines high craftsmanship with innovation in technique and material. Jewellery-making is my artistic expression and I consider my pieces as art objects that can stand for themselves or underline the personality of a unique woman.

Can you tell us about your creative processes?
In general, I work very intuitively, on a special subject or material, trying to apply unexpected function or perception. Since my childhood I have been fascinated by light – kaleidoscopes, mirrors, crystals and such things. Light is magic and it means everything to us. I want to put that into the work.