Sustainable jewellery made from unexpected materials
Sustainable jewellery brands are embracing Tetra Pak, wood and recycled glass for jewellery which ranges from the precious to the affordable. Here's our collection of the best in unexpected materials from innovative jewellers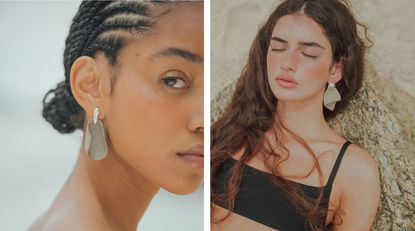 (Image credit: press)
Wallpaper* Newsletter
Receive our daily digest of inspiration, escapism and design stories from around the world direct to your inbox
Thank you for signing up to Wallpaper. You will receive a verification email shortly.
There was a problem. Please refresh the page and try again.
With the spotlight firmly on sustainability, a host of jewellers are taking a closer look at their production processes and rethinking the materials they use for contemporary rings, necklaces and bracelet. By utilising materials that already exist, rather than creating something new, offcuts destined for landfill are finding new life. Although there is work to be done, these sustainable jewellery brands are making mindful decisions now with an eye to a fully sustainable future.
Recycled silver and fairmined Eco gold make for humorous jewellery pieces
For British jewellery brand Rat Betty, jewellery wih a conscience doesn't have to be boring, and by focusing on the use of ethically-sourced metals only, designs are free to adopt free and playful forms. Think chunky skull-encrusted rings, abstract hooped earrings and mischeivous motifs, made to be piled on for maximum impact - at minimal impact to the environment.

ratbetty.com
Sculptural ceramic forms chic and imperfect silhouettes
Brazilian designer Gabriela Bins is the jeweller behind G. Binksy, a brand which celebrates imperfect silhouettes and sculptural forms. Her jewellery, crafted from ceramic, forms organic curves around the ear and neck, playing with proportions for bold and joyful adornments.
Vintage Bakelite: bold colours meet precious gems
Mark Davis teases vintage materials into contemporary forms for sustainable jewellery in all the colours of the rainbow. Vintage Bakelite, one of the first plastics to be made, has been polished and set with gems for a makeover with a conscience. The resulting pieces are fun and easy to wear, with bold bangles, earrings and sculptural rings promising to add a zing to your jewellery collection.
Tetra Pak: re-purposed food packaging with terrazzo-like appeal
Copenhagen-based jewellery brand Aym, fresh from working with recycled ocean plastic last season, has looked further afield for this new collection. After experimenting with different reprocessed materials in a bid for greater sustainability within the creation process, founder Sine Brixen alighted upon an Italian factory specialising in Tetra Pak for her simply defined jewellery. 'I found that the recycled plastic had many of the same features as bio acetate which I have previously worked closely with, but it is more of a sustainable option as it is made from already existing materials,' says Bixen. 'One of the features I really appreciate is the almost terazzo-like look and the potential for creating unique pieces and colour combinations,' she adds. The challenges of working with the material spurred her on to discover creative solutions; currently, she is planning designs centred around the cut-offs so each sheet of recycled plastic is fully utilised.
Glass bottles: trash to treasure
'We upcycle discarded glass bottles and incorporate them with precious metals like sterling silver in our jewellery,' say Los Angeles-based jewellery brand Cled. Their contemporary jewels, in a plethora of playful hues, rethink the possibilities of the circularity of goods. 'Trash is everywhere and natural resources won't last forever. Glass, especially recycled glass, is a great resource as it's comprised mainly of sand and causes no harm to the body or earth. The natural resources from the earth are limited so we do not need to worry about the exhaustion of resources to create our pieces.'
Jet: the mindful mineraloid
Pomellato has been inspired by the Japanese art of Kintsugi – a mending technique where cracks in the jewels are filled in with gold – for its new collection created from damaged jet and kogolong. The materials, which would usually be discarded, have been repurposed to create opulent adornments in their own right, with the large and opaque surface of jet the perfect foil for the kintsugi technique.
Glass: putting a new shine on playful hues
'Glass is such a beautiful and complex material,' says Agustina Diaz Galindez. Her jewellery brand, Ninfa Handmade, originally founded in Buenos Aires and now based in Portugal, uses glass, metal, porcelain and resin for fun and wearable jewellery. Glass fruits dangle from hoops, threads of freshwater pearls hold translucent flowers or rings of marbled glass cry out to be stacked. 'It's soft and delicate, but somehow we are surrounded by it. Glass protects us even though it's a sharp delicacy. I love that. It's quite poetic. Manipulating it is extremely beautiful too, you have to be quick but patient and concentrate with your moves - but not so much, as you can just melt it down and start all over again,' she adds.
Blackwood: a timber with the timbre of diamonds
Scandivinan fine jewellery brand Kinraden cut Mpingo Blackwood in the same way they would traditional diamonds. In their hands, the world's densest and most expensive of woods adds an edge to their elegant jewels. The Mpingo – which is FSC-certified wood sourced in a WWF-protected and sustainable forest in Tanzania – adds a warmth and a depth to their designs. Founder and head of design Sarah Müllertz says: 'The Mpingo wood is living, beautiful and luscious. Just by shifting the form and turning it into a diamond shape it gives a whole new value to the material. I think that's very interesting and a key focus for the years to come, for all designers.'
Resin: a low-energy alternative, with high-octane finish
Louise Olsen and Stephen Ormandy of Australian jewellery brand Dinosaur Designs create their resin homeware and jewellery in their Sydney studio. The resin, a by-product of the oil industry that would be burnt or destined for landfill if left unused, is converted into BPA-free jewellery using low-energy methods. The new collection, Clay, encapsulates this philosophy in sleek and smooth silhouettes for jewellery both bold and fun.
Ebony: a recycled treat from the 1980s
Los Angeles-based jeweller Emily P. Wheeler plays with bright gemstones and ethically-sourced materials in her pieces. Her new ring, crafted from recycled ebony, is the result of a search which culminated in the discovery of a large log of leftover ebony dating from the 1980s. Wheeler plans to carve her jewellery from the sustainably-sourced material over the next few years: 'I love the way ebony looks and how it brings in an earthy, 1970s vibe,' Wheeler says. 'I'm always trying to find unexpected materials to use in my jewellery. I want my pieces to be unique and timeless.'
Receive our daily digest of inspiration, escapism and design stories from around the world direct to your inbox
Hannah Silver joined Wallpaper* in 2019 to work on watches and jewellery. Now, as well as her role as watches and jewellery editor, she writes widely across all areas including on art, architecture, fashion and design. As well as offbeat design trends and in-depth profiles, Hannah is interested in the quirks of what makes for a digital success story.