Wood works: Solange Azagury-Partridge carves out an eclectic London outpost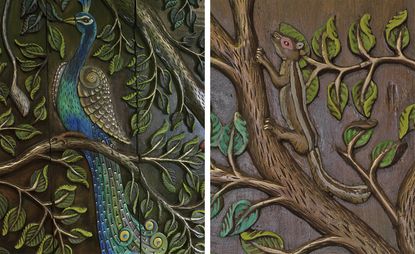 (Image credit: Solange Azagury-Partridge)
Like the party-themed balloon earrings in Solange Azagury-Partridge's latest 'Supernature' collection, we're in a celebratory mood over the jeweller's newly opened London boutique. Peering through the kaleidoscopic stained glass windows of the two room space near Hyde Park, passersby will only wonder at its ecclesiastical aura, intricate wood-carved walls and multifaceted, colourful furnishings.
'I don't like empty spaces,' Azagury-Partridge says of her approach to interior design. Her new boutique contains elements that run throughout her brand's retail network, like the rainbow-carpet floor of its entrance room, the luxurious velvet walls, mirrors with frames glinting like oversized gems and the Chinese Chippendale chairs. 'It's a question of reusing those elements and making them look fresh again' she says.
The entrance room is a sugary blend of turquoise and pastel tones, topped off with a palm frond painted cornice, a bold, orb-like chandelier and jewellery cases finished with frothy plumes of feathers. 'I'm also planning to paint grass around the skirting boards,' Azagury-Partridge says. 'It will look like it is sprouting from the ground.'
Natural motifs abound in the backroom of the boutique too. In a darker and more mysterious twist, its walls are lined with oriental antique wood panels, carved with peacocks, chipmunks and leafy trees. Completing the exotic theme is a sofa upholstered with leopard print fabric.
'There's an element of intimacy to the space,' Azagury-Partridge adds. 'People who want to find me can find me.' Like the boutique's churchly stained glass windows, it's well worth making a pilgrimage to.
INFORMATION
For more information, visit the Solange Azagury-Partridge website (opens in new tab)
ADDRESS
27 Chilworth Street, London, W2 3HA