For keeps: the signet ring's new stacking form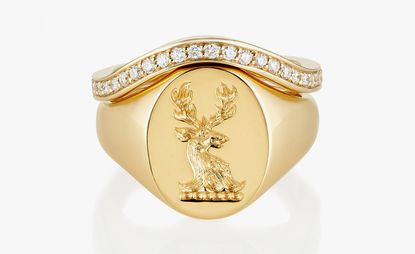 (Image credit: Rebus)
As far as inconspicuous status symbols go, signet rings are discreet signs of a person's family history and standing. Or, they used to be: nowadays signet styles can still display heritage, but they are increasingly being worn by men and women for purely aesthetic reasons too, whether as an accessory or as a significant men's engagement ring.

Symbolism is still a defining characteristic of modern signet iterations, as in Dior's Lucky Rings set with bees, clovers, lily-of-the-valley and stars inspired by Christian Dior's well-documented superstitions. But the history aspect is not imperative, as with Dina Kamal's elegant, stripped-back geometric shapes.

At Rebus Signet Rings, an award-winning engraving workshop in Hatton Garden, clients hankering after a bit of wearable history can peruse Fairbairn's Book of crests of the families of Great Britain and Ireland, first published in 1859, of which the workshop owns fourth editions from 1892.
Rebus ring in 18ct yellow gold with blue sapphires
Its worn-down pages are testament to the great, millennia-old tradition of signet rings as a signature or seal for official documents. 'We've seen the demand for signet rings go up', says Emmet Smith, director of Rebus, 'because people now realise that signet rings are not just about a family crest, but that they can be customised as preferred.'

Rebus likes mixing the historical with the contemporary take, and so has just launched an updated version of the Keeper ring, a gem-studded band designed to follow the shape of classic signet rings, so that they may be stacked.

The Keeper style, says Smith, 'is inspired by a long history of companion rings that harks back to the Georgian era, when Queen Charlotte – a tastemaker, wore a band set with diamonds above her engagement ring, inscribed with her wedding date.'

Then as now, the Keeper ring served as a token. Says Smith: 'The ring protected her engagement stone, establishing the Keeper ring as an enduring symbol of protection.'
INFORMATION
For more information, visit the Rebus website (opens in new tab)