Space man: Pharrell Williams on producing a time machine with Richard Mille
The design for the RM 52-05 is driven by Williams' imagined depiction of space and Earth, reflected on the helmet visor of an astronaut on Mars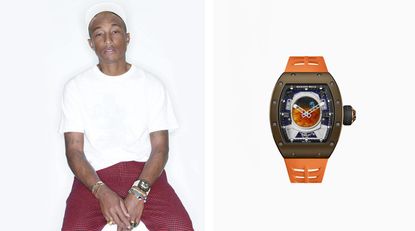 (Image credit: Robert Jaso)
Wallpaper* Newsletter
Receive our daily digest of inspiration, escapism and design stories from around the world direct to your inbox
Thank you for signing up to Wallpaper. You will receive a verification email shortly.
There was a problem. Please refresh the page and try again.
In his own words, Pharrell Williams reveals the cosmic inspiration behind the RM 52-05.

Mars is the god of war; Mars has a fire about it.
Mars has been a big topic of conversation since 1971 when the first probes landed there. Mars is so symbolic to mankind. Think about it: if man can make it to Mars, then what can't we do collectively as a species on Earth – in the present? So why not create that poetic gesture in the form of a watch, something that tells time.

This is a big deal.
It's my first actual watch collaboration. I've always dreamt of this and it was Richard who came up with the idea. We're not shooting for the moon, we've shot for Mars!

I have a time machine on my wrist.
I've been saying this, and people are like, 'OK, cool'. And I'm like, 'No, you don't understand how amazing the concept of time is.'

It's kind of like da Vinci's paintings.
This watch is like art that actually works. I mean, the Apple Watch is awesome. It's meant to do all these things that contribute to the vigilance of one's health and one's productivity. But this watch is dynamic art. There's a whole lot of story going on in this watch.
The dial form of the Richard Mille 'RM 52-05 Tourbillon Pharrell Williams' is created in a stylised-spacesuit structure, spray-painted white using an airbrushing technique developed for Richard Mille by French street artist Kongo, and it rests on a Grade 5 titanium structure, which connects the dial to the movement. The curved-dial landscapes are created using the champlevé enamel technique, while the landscape is hand-engraved in red gold at the Pierre-Alain Lozeron engraving workshop in La Chaux-de-Fonds. At either side of the helmet, two white gold elements, with a black sapphire and two diamonds, represent floodlights and cameras worn by space explorers.
Being a collaborator is what I'm good at.
It's my natural art form, to reduce one's ego to allow somebody else to feel less gravity, so that they can just be themselves. That's what a producer does. It was the same with this.

If it had just been me, this watch would have been way different.
But I needed to let Richard have the space to do what he needed to do. It wasn't like a super-fluid exercise.

Richard and I had clusters of deep dives.
Like different beats about what we were trying to achieve. But then Richard might go and reverse engineer some of these intentions. He designs art that is technical, but there is also a feeling, too. Because when it's right, it feels right.

I think we're bringing something new to the category.
Because of our tastes and the things that stimulate us, I feel that we're adding a pop. Think about it, there's the titanium and ceramic, that unique blend that Richard Mille engineered to give you the feeling of the surface of Mars. Then there's also the reflection of that surface in the enamel and the helmet. And there's the orange that also actually matches the hues of the surface.

Our partnership was about introducing energy that is not tethered down by the customary.
We had the audacity to launch with an alternative orange strap, not just because it's a cool colour, but because it's related to the story. The orange actually matches the hues of the surface of Mars. So we had the audacity to go with what is right for the story, to be loyal to the creativity and the concept.

I don't know if Mars has a sound.
I suppose that would depend on the atmosphere; how much the wind is blowing. They won't let us see the water, so I don't know. I guess it would depend on the elements. §

As originally featured in the May 2020 issue of Wallpaper* (W*254); download the latest issue free here
INFORMATION
richardmille.com
pharrellwilliams.com
Receive our daily digest of inspiration, escapism and design stories from around the world direct to your inbox