Sea worthy: Pinch Design creates the inaugural Panerai Challenger Trophy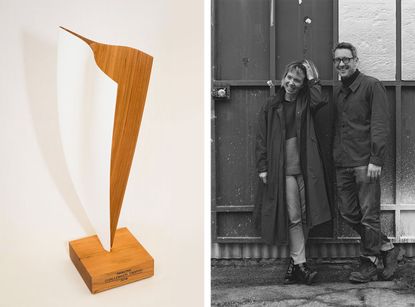 (Image credit: Panerai, Pinch Design)
This week, Pinch Design presents its first ever public-award piece. The Panerai Challenger Trophy was commissioned by the Florentine watch brand to celebrate the achievements of junior sailors across the UK through a nationwide competition.

The Trophy design marks the first in a three-year series, with a different name being nominated each year to create the piece. The design has to reflect the nature of classic yacht building, so the use of wood as the primary material is a crucial element.

It was a brief that appealed to designers Russell and Oona Pinch, who were enamoured at the idea of studying the principles of yacht design. Panerai has had strong links to the sea since the late 1930s when it was commissioned to create technical instruments for the Italian Navy seals. It is also chief partner for the international regatta circuit of classic and vintage sails.

In 2006, the brand bought and restored a significant 1930s heritage yacht, Eilean, designed by the famed William Fife shipyard in Glasgow. Having starred in Duran Duran's 1981 'Rio' video, it changed hands and fell into disrepair. The then Panerai CEO spotted its decaying form in a West Indies mangrove and immediately knew its provenance.

Eilean is the prime inspiration for the Trophy. As Russell Pinch says: 'The design and story of Eilean is so rich with beauty and perfection. She is a boat of extreme poise and elegance, under-stated beauty, quiet confidence, and exquisite strength. It was really hard to know where to start when designing the Trophy, as there were so many design avenues to explore.'

Elegance of line and form as well as a dedication to craftsmanship resonate with Pinch Design's own furniture aesthetic, making them the perfect choice for Panerai Challenger Trophy's inaugural outing. 'There are contrasts and contradictions in all aspects of the sailing community,' Pinch says. 'Our Trophy design subliminally references these aspects with a lightness of touch. But the most important value of the Trophy is its beauty – as a symbol of an opportunity, of the individual.'

The Trophy committee – formed of representatives from the Royal Yacht Association, the British Classic Yachts Club and Officine Panerai, selected four young finalists from sailing centres across the UK. This week, during Cowes Classic Week, 18-year-old Nicola Stockdale from the Debdale Outdoor Centre in Manchester was announced the winner, having been deemed 'an outstanding young person who has embraced the power of sailing or windsurfing to achieve a personal triumph against the odds'.
The Panerai Challenger Trophy 2018
INFORMATION
For more information, visit the Pinch Design website and the Panerai website