Viva Vivianna: Georg Jensen salutes a jewellery design great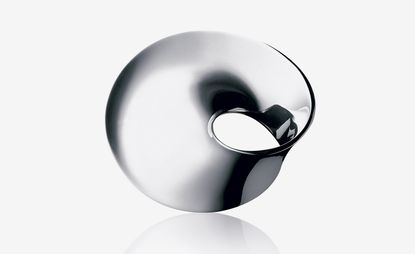 (Image credit: CAITLIN MCDONALD AND CARAGH MCKAY)
A clear instinct for minimalism and pure, organic forms singles out the mid-century designs of Swedish jeweller Vivianna Torun Bülow-Hübe, better known as 'Torun'. A prodigious silversmith, Torun secured her first exhibition aged 21. By the late 1940s and early 1950s, she was part of the Paris art studio fraternity, counting Picasso and Billie Holiday as friends.

Torun, who died in 2004 aged 77, is best known for her standout jewellery for Georg Jensen (opens in new tab). This year, the Danish design house is celebrating the 50th anniversary of their creative coming together. She began working with Jensen in 1967, creating a jewellery language all her own that was pointedly not in thrall to rare, expensive materials. Her designs include the 1968 'Möbius' collection, made from a continuous, fluid band of twisting silver.

Her approach was consciously 'anti-status', and she preferred to work with silver, steel and semi-precious stones, even pebbles. As such, her modernist designs avoided conservative clichés surrounding jewellery, freeing it from its status as a symbol of high net worth and dainty feminine elegance.

Torun also created the Vivianna watch, a spoon-shaped 'never-ending' bangle with a mirrored dial and simple hands but devoid of numerals. Originally commissioned for an exhibition at the Musée des Arts Décoratifs in Paris, she said her decision to leave out the hour markers suggested a kind of non-time, so that each time the wearer looked at the dial, the message that 'life is now' would be reflected back.

Her work remains an important part of Georg Jensen's design heritage: 'The sculptural power and unique lines of the pieces are timeless, and there is a spirit of artistry and craftsmanship, of making jewellery by hand,' says Nicholas Manville, Georg Jensen's senior vice president of design. 'The relationship was mutually supportive and allowed for a level of experimentation that did not always produce commercial designs, but important, innovative ones.'

For the anniversary, Georg Jensen has reworked the Dew Drop neck-ring from a 1955 collection that Torun designed in Paris, after she had graduated from Stockholm's Academy of Industrial Arts. Reworked in yellow gold, it links with a droplet-like pendant of rock crystal, black onyx and quartz, shot through with needle-like shards of golden rutile.
INFORMATION
For more information, visit the Georg Jensen website (opens in new tab)