Last chance to see Bulgari's magical history tour
'Bulgari, the story, the dream' charts the 135-year history of the Roman jewellery house across two locations in its Italian home city - Castel Sant'Angelo and Palazzo Venezia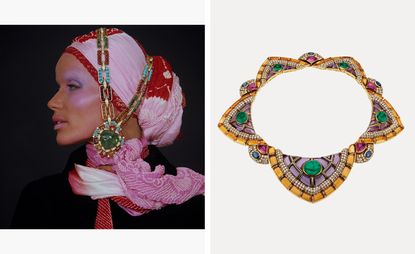 (Image credit: Franco Rubartelli)
When hunting down a particular heritage jewel – be it a Forties Serpenti watch or a Roman coin-set Monete piece from the Sixties – Bulgari's brand heritage department casts a global eye in the hope of acquiring 'lost' pieces to add to the house archives. From placing advertisements in local newspapers, in the hope of alerting former owners, to scouring auction-house catalogues in search of its own historical pieces, its quest is a constantly evolving puzzle.

It was in such a way that, last November, the Bulgari heritage department tracked down a much-coveted sautoir that famously festooned a headscarf worn by Veruschka for a Vogue photoshoot in 1970. The piece – set with Bulgari's distinctive cabochon-cut coloured gemstones, including rubies, amethyst, topaz and turquoise, and featuring a huge heart-shaped emerald at its center, was acquired from a private collection.
It is just one of the rare 170 pieces on show at 'Bulgari, the story, the dream', an exhibition in the jeweller's home city of Rome. Spread over both the Polo Museale del Lazio's Castel Sant'Angelo and Palazzo Venezia, it is a grand celebration of Bulgari's 135-year design heritage.

Adding a dual layer to this historical journey is a selection of vintage designer haute couture from the private vault of collector Cecilia Matteuicci Lavarini. Displayed on mannequins, it charts the sartorial styles that evolved, decade by decade, as Bulgari's reputation flourished. These include pieces by Jeanne Lanvin, Cristóbel Balenciaga, John Galliano for Christian Dior and Alexander McQueen.

Bulgari's home may be fashionable Rome, but its roots are Grecian. Sotirio Voulgaris – his surname translates as Bulgarian, hence the Greek 'v' in the Bvlgari brand name – left Paramythia in 1880 for Corfu then Naples and finally arrived in Rome in 1884, where he established his first boutique selling exquisitely crafted silver artefacts in Piazza dei Martiri.

Over time his 'Old Curiosity Shop' evolved into a jewellery-specific space, a focus pioneered by Voulgaris' son, Giorgio, who journeyed to the Place Vendôme in Paris in the early 1900s, and became an expert gem buyer. His knowledge of jewels meant that the family business could start creating jewellery designs of their own, at first following in the French fine- jewellery tradition.
Post War, the house had begun to forged an Italian high jewellery style, focused around gold designs, stones having been hard to acquire during war time. That metal driven take naturally seamed into Italy's 1950s industrial design boom and the 1960s influx of Hollywood stars who came to Rome to film at Cinecittà Studios. Indeed, archival imagery, photography and film are an engaging addition to the exhibition. But it is the rare jewels and objects from Bulgari's design archive that really fascinate.

They distinctly chart the aesthetic evolution of the house, from its introduction of bold coloured gemstones and the cabochon – dome-shaped – cut in its Sixties heyday, to its commercial explosion in the United States in the 1970s and consequent amalgamation of American iconography into its designs. Bulgari's exploration of unusual materials with precious varieties, such as steel, porcelain and cord, also point to the Arte Povera influence and the house's own mid-century point of view.

At Castel Sant'Angelo, the exhibition focuses on Bulgari's history between the Sixties and the Nineties. Tremblant brooches quivering with petals, lifelike Serpenti watches and Monete pieces set with Ancient coins are all on view. The show also revels in Bulgari's role within Rome's Le Dolce Vita period, featuring pieces owned by its greatest movie-star patron, Elizabeth Taylor.

In her book 'My Life in Jewelry,' Taylor wrote, 'Undeniably, one of the biggest advantages to working on Cleopatra in Rome was Bulgari's nice, little shop'. When her jewellery collection was auctioned at Christie's in 2011, Bulgari's Brand Heritage Department bought back seven pieces for their archive, including the famed diamond and emerald necklace given to Taylor by Richard Burton in 1964 as a wedding gift. It amalgamated a brooch he'd bestowed to her two years before, as a removable pendant.

As the show comes to a close, the resplendent Veruschka-worn sautoir comes into full view. It is displayed not only as an emblem of Bulgari's constantly evolving design approach, but of the Bulgari brand heritage department's determination to hunt for the next piece in its grand historical jigsaw.
INFORMATION
'Bulgari, the story, the dream' is on view until 3 November 2019
bulgari.com
polomusealelazio.beniculturali.it
ADDRESS
Castel Sant'Angelo
Lungotevere Castello, 50, 00193 Roma
Palazzo Venezia
Piazza di S. Marco, 49, 00186 Roma