Fashion brands leave their sartorial mark on Salone del Mobile 2021
Here we present the Wallpaper* edit of the finest fashion brands at Salone del Mobile 2021, from Dior's 'Medallion' chair exhibition, which enlisted 17 artists and designers, to Valextra's collaboration with Tom Dixon, Gucci's debut Lifestyle collection, and the latest home offerings from Hermès and Armani Casa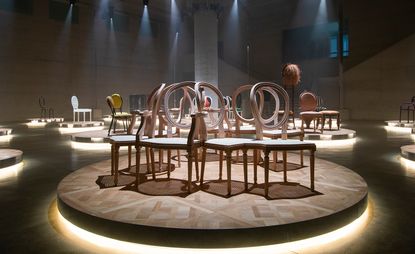 (Image credit: Alessandro Garofalo)
Seventeen months after it was originally slated to take place – in April 2020, when it was postponed because of the pandemic – Salone del Mobile once again graced the streets of Milano. While many of the usual suspects – Prada, Fendi, Marni, Louis Vuitton – opted to sit this Supersalone out, there was no less innovation to be found. Gucci's creative director Alessandro Michele made a cartoleria pop-up complete with a mouse hole; Dior gathered 17 of the most esteemed artists in the world to interpret its iconic 'Medallion' chair; Giorgio Armani gave us spaghetti measurers and rolling pins; while Hermès crafted a world of fine fabric canopies. Here is the Wallpaper* edit of the best fashion brands at Salone del Mobile 2021.
Fashion brands at Salone del Mobile 2021
Dior
Dior took over the newly refurbished Palazzo Citterio to unveil its 'Medallion' chair project. As guests mingled in the Dior-ified gardens, in the concrete depths of the basement, 17 artists – including India Mahdavi, Joy de Rohan Chabot, Sam Baron and Khaled El Mays – presented their interpretation of the Louis XVI-style seat that Monsieur Dior chose as one of the interior emblems of his fashion house on Avenue Montaigne in Paris back in the mid-1940s. The collective result was a reminder of the contemporaneous spirit of the fashion house and its enduring codes. Speaking about the project as well as her own approach, Mahdavi told Wallpaper*: 'Beauty comes from the strength of the lot; they're separate but connected and it's that togetherness that I like.'
Hermès
Staged at La Pelota, Hermès enlisted Hervé Sauvage on set design to create five hand-painted structures in which to house the Paris-based brand's collection. Designed to celebrate the tension between different textures, guests were invited to crunch around the softly lit space with sand underfoot, a detail which emphasised the raw nature of each room's curated contents. Inside the imposing constructions sat pieces 'designed to be touched': its 'Sillage' armchair made from recycled paper fibres; its elm and calfskin jewellery boxes; the enamelled copper ceramics from its 'Sialk' collection; and cashmere blankets hoisted on wooden poles. With Manuel Rocha Iturbide, Antonio Fernandez Ros and Rogelio Sosa behind the sound design, it became a sensory homage to the physicality of craftsmanship.
Tod's
Tod's enlisted New Jersey-based artist Willie Cole for its installation at its Montenapoleone flagship. The contemporary artist, who has carved out a reputation for using discarded domestic items such as hairdryers and irons during his five-decade career, was given free rein in the Tod's factory to make three sculptures using leftover materials from the production line. The result was a chair, a sofa and a sculpture using the uppers of the brand's signature driving shoes. 'The thing that interests me is recycling beyond sanitation,' Cole told Wallpaper*. 'My work is all about "play".' To complement his creations, the brand launched its limited-edition 'Mosaic' collection, which uses a traditional patchwork technique, and the offcuts from its mainline collections.
Valextra
Valextra teamed with its neighbour Tom Dixon on a project that saw the brand stage Dixon's ten-piece 'Black Light' exhibition in its Via Manzoni flagship. For his installation of ten huge light sculptures, Dixon took his cues from Milanese masters including Gio Ponti, Achilles Castiglioni and Ettore Sottsass. For its part, Valextra looked to the traditional Italian art technique of chiaroscuro – meaning to contrast light and shade – to create a collection of the same name that juxtaposed its multidimensional leathers in four of its iconic handbags: the 'Iside', the 'Tric Trac', the 'Bucket' and the 'Brera'. The result saw two disciplines come together, said Valextra CEO Xavier Rougeaux, to 'pay homage to Milan, its masters and celebrate the symbiosis between design and urban craft'.
Gucci
Alessandro Michele created every stationery aficionado's nirvana with his Gucci Cartoleria pop-up on Via Manzoni, which celebrated the lauch of the Florentine brand's Lifestyle collection. A bona fide treasure trove of pencils, pens, notebooks, pencil cases, paperweights and board games (catnip for early-bird Christmas shoppers when they launch online this week), the space was an ode to the small Italian shops of Michele's childhood. 'I imagined a small cabinet of curiosities, a Wunderkammer, like the cave of Ali Baba, that could accommodate these everyday objects and return them to a fairy-tale dimension,' he explained. In his signature whimsical style, Michele incorporated an overhead upside-down train track, a sensor-activated chess set, and a mouse hole complete with a miniature living room at foot level. It was conceived, he said, to restore a sense of wonder to everyday life – and it did.
Armani Casa
Things you now need that you didn't know you needed ten seconds ago: an Armani rolling pin, spaghetti measurer and chopping board. For his Armani/Casa 2021 collection, Giorgio Armani wanted to 'express all the dimensions of the concept of "living at home"', hence the handy additions to a collection that caters to spending lots of time in it. The brand's first desk chair and a huge new eight-seater square table are joined by an internally lit room divider and a new limited-edition cylindrical bar cabinet, all making the home user-friendly in the most luxurious – aka the most Armani – of ways. He's considered the garden, too. The 'Robespierre' barbeque set, the 'Rovo' gardening bag (complete with wooden-handled tools) and the 'Regni' cashmere and wool rug that doubles as a chess board with supersized leather pawns take outside living to another level.
Issey Miyake
Issey Miyake staged 'In The Making' in its Tokujin Yoshioka-designed Via Bagutta store. Presenting the construction process behind two of the brands under its umbrella, Im Men and A-Poc Able Issey Miyake, it affirmed its longstanding textile-innovation credentials. First up, the 'Flat' (whose construction is inspired by 132 5 Issey Miyake) and the 'Convertible', which condense into briefcase and crossbody bags and are crafted from the husk of sugar cane. Next up, its 'Type-I' project, which involves a process that uses Triporous, a material made from rice husks (100 million tonnes of which are discarded globally every year, the brand pointed out), and achieves a unique shade of black that cannot be done through conventional dyeing techniques. These projects were joined by a presentation of collaborations with Tadanori Yokoo and Fabio Bellotti, both of whom have been working with the brand since the 1970s.
Rick Owens
Rick Owens and Michele Lamy collaborated with Galerie Philia founder Ygaël Attali to engage ten emerging Italian designers to create pieces inspired by Owens' furniture. 'My furniture is my couture,' declared the designer about his one-of-a-kind projects, which here sat alongside the pieces designed in his honour. A marble chair by Pietro Franceschini and a floating glass and brass vase by Agustina Bottini stood opposite a bronze bollard lamp by Owens. Atop Owens' alabaster and moose-antler 'Stag T' side table sat a sculpted brass candleholder by Samuel Costantini, both illuminated by a brass and silicone 'Howl' light installation by Morghen. 'Rick's work is brutalist, dark and rough and some things here are very soft,' said Attali. 'To mix them creates a discussion [between materials] and a dialogue between Rick and the Italian designers.'
Stone Island
Salone's delay has rendered the fifth installation of Stone Island's Prototype Research Series, its experimental numbered-garment project, all the more beautiful. The brand experimented by applying a nanometric copper layer through a vapour deposition technique onto a fabric bonded with its signature raso cotton, and made 100 trench coats. The plan was to investigate the natural oxidation characteristics of copper in a fashion context using industrial processes (the first time a fashion brand has used this particular type of technology); the result was a fabric that has a stunning iridescent camouflage-like surface texture but became completely unbonded in the time since the coats were made, the bonding 'eaten by the same oxidisation', explained creative director Carlo Rivetti; it means the pieces can't – like previous collections – be sold. 'This is the unfiltered story of an unfinished research process,' he added. 'Each step has taught us important things which will be important for the future, regardless of the goal achieved.'
Kassl Editions x Zara Home
High-street juggernaut Zara Home and indie Amsterdam label Kassl Editions presented their limited-edition homewares collection at the former's flagship on Corso Venezia. With the first floor devoted entirely to an exhibition to present the tie-up, it made for a bold statement of design democratisation and one for which Kassl Edition's 'Pillow' sofa (originally conceived for Wallpaper's Re-Made initiative in collaboration with Muller Van Severen) was reinvented. Joined by art prints, flat-weave rugs, reversible mirrors and lacquered wood furniture that can triple as tables, shelves or plinths, the modular collection caters to design enthusiasts on a budget.
La DoubleJ
Supersalone saw La DoubleJ founder JJ Martin 'activate a hunch and bring back the bat'. Stemming from the themes of spirituality for which the womenswear brand is becoming increasingly known, Martin commissioned the artist JoAnn Tan to help turn the basement of the brand's new Via San Andrea store into a bat cave-cum-craft installation to celebrate the spirit animal. Martin's vision came to life through Tan's suspended bat lamps, made from turned walnut, Italian silk, and Hermès leather on the wings, and which each took one week to complete. The event provided a first opportunity for many to see inside the space, which opened this April, as well as see the brand's new Miniscalchi homewares collection. Highlights include a set of porcelain plates featuring patterns that first appeared on tableware made for Napoleon Bonaparte's visit to Verona, here rendered in bubblegum pink ('because this is La DoubleJ!' laughed Martin), and an extension of the brand's collaboration with Venetian glassmaker Salviati on smoky sets of liquor glasses.
Versace
Donatella Versace called on Milanese architects Roberto Palomba and Ludovica Serafini to translate Versace's fashion-house codes for Versace Home in a bid to have a more '3D vision of [the] Versace environment', explained Palomba. Staged in Versace's Via Durini space, which opened in April, everything hinged on the Greca pattern, which debuted in the A/W 2021 ready-to-wear collection. It manifested here in cushions, bed linen and wallpaper in green, blue, pink and brown. Deliberately less extravagant than Versace Home of old, this collection marks a move towards a clean-lined aesthetic and a focus on details over drama. Symbols synonymous with the house – including the gold safety-pin and Medusa head – arrived as subtle details such as zips and buttons on the new leather 'Venus' armchair and buttons on the made-to-share 'Signature' sofa. 'Donatella is the icon for a new generation of women, and we made a house for her to represent her: she wants to hunt, rather than be hunted,' said Palomba.
Off-White
Salone may see few brands designing with dorm rooms in mind, but then most brands aren't Off-White. Creative director Virgil Abloh collaborated with the ceramicist Ginori 1735 on its new homewares collection, which comprises a tea set, serving platters and dinner plates in the Florentine company's classic white porcelain, all graffitied with Off-White's tag. 'This is a collection for the modern dining room – whether formal in a home, a millennial apartment, or simply a dorm room,' said Abloh of the first instalment of the collaboration (the next will land in 2022). 'The imposition of the modernity of a logo and graffiti art with the respected house of Ginori 1735 is proof that good design can live on forever.' Studying just got a whole lot more civilised.
Loro Piana
Famed for its deliciously luxurious textiles, Loro Piana looked to the past, the present and the future to create three stories that celebrate fabric for its Salone presentation at its Montenapoleone store. First up it commissioned Gabetti & Isola to create an exclusive version of its iconic 'Bul-bo' lamp (originally created in the late 1960s); as the new 'Bul-bo Soft', its base is covered in cashmere and contrasting Altai wool fabric. Next up, an interpretation of the classic director's chair by Exteta and Paola Navone-Studio Otto, which has resulted in the 'Delight' chairs, covered in an outdoor fabric conceived by Loro Piana that is light, salt-, chlorine- and fungus-resistant. And finally, there's the 'Palm Duet' chaise longue, a creation by Raphael Navot made exclusively for Loro Piana and upholstered in Cashfur, a novel fabric made from combining cashmere and silk on circular knitting looms.
Etro
After the best part of 18 months spent at home, it's little surprise that bar cabinets have made a celebrated return. Etro's new offering, the 'Rajan', is equipped with bronze glass and lined in a champagne paisley print (naturally). It forms one of the elements of the brand's 'Intimate Dining' collection on display at its Via Pontaccio store, where it is joined by its new 'Klee' round dining table, complete with a dinner-party friendly lazy Susan; the suitably sumptuous 'Kush' armchair, which is studded in gold; and the 'McKenzie' glass lamps, which drop like jewels from the ceiling.
Missoni
Missoni had a three-fold presence across the city. Its Via Sant'Andrea boutique hosted its Virgila Soft loungers and circular Art Glass tables. On display at its Brera HQ was its new collection of Miss Wood chairs - rounded wooden sculptures which have been polished and painted in degrade pastel hues so to appear almost plastic in their structure - and its new Grandma armchair suite featuring curved Walnut arms and upholstered in five variants of its famed zigzag textile. But it was at the Universita Statale di Milano where the world of Missoni Home came to life: modular outdoor sofas and square poufs covered in its water-repellent Andalusia stripe stood in the shadow of a huge Missoni vase covered in an intricate mosaic by the famed Venetian furnace Orsoni Venezia 1888. Creative Director Rosita Missoni, who turns 90 in November, told Wallpaper* that it was a joy to be designing items that allow people to enjoy being outdoors, something she has personally relished since the start of the pandemic.
Sunnei
Milan-based Sunnei partnered with its fellow Milanese brand and long-term collaborators NM3 on an installation outside its Via Vela flagship to celebrate the Super Salone. The cuboid metallic seating structure features a maple tree in the centre and was designed to bring the inside out, creating a tranquil oasis in the heart of Milan's urban centre – in signature low-key-chic Sunnei style. The design duo behind the brand, Loris Messina and Simone Rizzo, used the occasion as an opportunity to spruce up their collection space too, where they presented their autumn/winter 2021 collection, AKA the uniform of Milan's design-centric cool crowd.
Roberto Cavalli
Taking its leave from its new designer Fausto Puglisi's first menswear collection for the house in June, the Roberto Cavalli Home collection on display at its Via Montenapoleone flagship was all about optimum glam (before arriving at the house, Puglisi was famed for dressing Beyonce, Lady Gaga and Jennifer Lopez, so no surprise there). The result was two threads: the new Wild Dining and the Wild Suite. Brushed bronze tables, brass chandeliers and a bookshelf panelled in Wild Tiger fabric were met with animal-print bed linen, silk pillow cases and black leather bed frames, while the home office gets a suitably decadent update with a jewel-handled gold desk.
Berluti
Berluti enlisted the talents of Spanish furniture designer Jorge Penadés to repurpose leather offcuts from its ready-to-wear collections to create three pieces of furniture that were unveiled in its new Montenapoleone flagship. After gathering a mound of multicoloured pieces, Penadés created what he has coined "Structural Skin"; it's a wood-like structure that saw him compress the leather with natural glue in a bespoke mould and leave them to dry for weeks before cutting and sanding them down. Taking on a rock-like appearance similar to that of agate, his creation has formed the legs for a glass and steel table, the base of a table lamp, and keyring cords. Plans are to produce them in a numbered and limited-edition series, with only five of each available.
Receive our daily digest of inspiration, escapism and design stories from around the world direct to your inbox
Scarlett Conlon a freelance journalist and consultant specialising in fashion, design and lifestyle. Before relocating to Italy, she held roles as deputy fashion editor at The Guardian and Observer and news editor at British Vogue in London. She is currently a regular contributor Wallpaper* Magazine among other prominent international fashion and design titles.