Singapore + Wallpaper* Handmade Classics
A new exhibition at Gillman Barracks presents a 'greatest hits' of Wallpaper* Handmade's collaborative designer-maker project – from rice cubes to bookish perfumes (and everything in-between)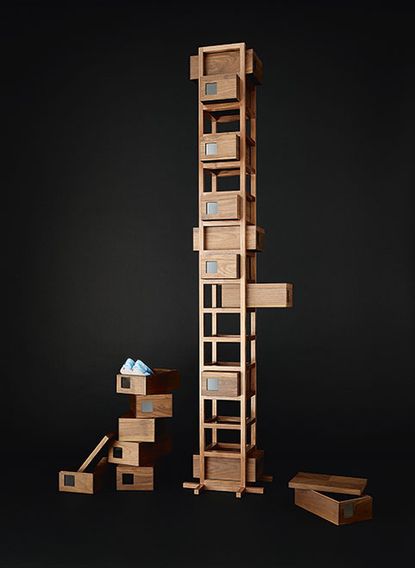 (Image credit: TBC)
Singapore is a design destination irrefutably on the up. A dynamic cultural hub, the bustling city-state's creative spirit is in part driven by its small size – a mere 719 sq km of land accommodates 5.78 million people. To adapt to the constraints of high-density living, residents have embraced a wealth of micro-solutions.

This enlightened sense of creativity is channelled in 'Singapore + Wallpaper* Handmade Classics'. Launched on 9 March as part of the fourth annual Singapore Design Week, the exhibition will present a selection of the finest designs from Wallpaper's Handmade initiative. An annual project now in its eighth year, Wallpaper* Handmade sees the world's foremost design magazine cherry-pick cutting-edge artists, makers and manufacturers from around the globe to create one-off pieces. From sleek industrial accessories to furniture, food, fashion and more, the works are presented each year as an exhibition at Milan's Salone del Mobile and in a special edition of the magazine. It's a profound enterprise, exploring the meeting of design and expert craftsmanship through ingenuity and customisation.

The overarching theme for 'Singapore + Wallpaper* Handmade Classics' is 'MultipliCITY' – a playful acknowledgement of Singapore's heritage of adaptability, diversity and invention. The projects featured will delight through their aesthetics and execution, while many nod to the idiosyncrasies of the contemporary Singaporean lifestyle. All exemplify the skills and nous of designers and manufacturers at the vanguard of their respective industries.

Take Handmade 2012's 'Ricecube', for example. A minimalist rice cooker conceived by Danish artist Michael Elmgreen (one half of art duo Elmgreen & Dragset) and Chris Hill (of the design development firm Solve 3D), it's an ascetic, elegant reimagining of a familiar device; an understated object marrying form and function.

Similarly in tune with the space-saving 'MultipliCITY' remit is the 'Shoe Tree' of fashion designer Beatrix Ong and London-based furniture collective Joined + Jointed. A 'piece that is both storage and display', explains Ong, the rustic wooden mix of totem pole and shoebox sees a modular design that can be 'grown' as desired by the owner (hence the name). Revealed at Handmade 2016, it's one of the newer designs on show.

Beautifully compact is the 'Tasting Cabinet', a mirrored, five-decanter minibar – rendered in clear and smoke-grey glass, and elegantly lit from below – created for Handmade 2013 by the German industrial designer Christian Haas, heritage German glassmaker Theresienthal and esteemed French Armagnac house Marquis de Montesquiou (which also devised a custom blend specially for the project).

Other designs selected include a carbon-fibre picnic basket from Neri & Hu and Jaguar; a perfume bottling the scent of freshly printed books, by nose Geza Schoen and publisher Lagerfeld, Steidl, Druckerei Verlag; and a pared-back electric toothbrush by Sam Hecht and Kim Colin's Future Facility and Braun Oral-B.

Wallpaper* is invested in other parts of Singapore Design Week – specifically, the central 'Innovation by Design Conference', which presents an electrifying line-up of global design, business and public sector speakers. But by choosing Singapore as the inaugural location for 'Wallpaper* Handmade Classics', the world's most important design authority explicitly celebrates the ascendant status of this most exciting of design cities. As with the pairings at the centre of every Handmade project, it's an inspired and symbiotic melding of the best the design world has to offer – a match as towering as the Singapore skyline itself.
INFORMATION
'Wallpaper* Handmade Classics' is on view until 11 June. For more information on the Innovation by Design Conference, visit the website (opens in new tab)
ADDRESS
Gillman Barracks
9 Lock Road
Singapore 108937
VIEW GOOGLE MAPS (opens in new tab)