Artist's Palate: Cao Fei's recipe for Singapore laksa
'It's sweet, salty, spicy, fishy and fresh,' says artist Cao Fei of her recipe for Singapore laksa. As seen in this month's Artist's Palate feature, a Wallpaper* homage to our favourite contemporary art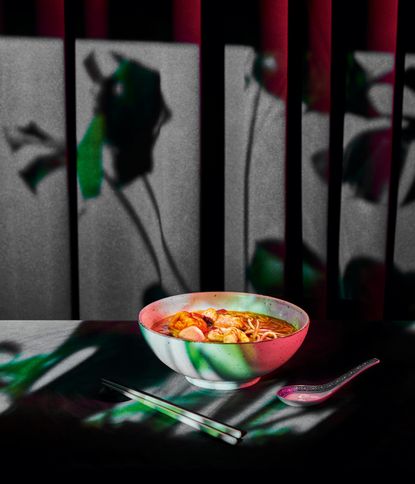 (Image credit: Neil Godwin)
While the earlier work of Cao Fei is inextricably linked to her homeland of China, Singapore has come to play an important role in her recent output, particularly in Isle of Instability, 2020, a meditation on the meaning of home, produced during ten months of lockdown in the city state with her children and husband, the Singaporean conceptual artist Lim Tzay Chuen. It was Lim who introduced Cao to Singapore laksa: 'He took me to eat laksa for the first time and I fell in love,' she recalls. 'It's sweet, salty, spicy, fishy and fresh. It looks like a stunning, flowing Jackson Pollock work, white and red pigments hedging against each other.'
Cao Fei's recipe for Singapore laksa (serves 2)
From Tasty.co (opens in new tab), presented by VisitSingapore
8 king prawns
4 tbsp cooking oil
480ml chicken stock
1 tbsp palm sugar
1 tbsp fish sauce
400ml coconut milk
100g tofu puffs
200g vermicelli rice noodles, cooked
100g beansprouts, blanched
1 fish cake, sliced and heated
8 cockles
1 bunch laksa leaves
2 tbsp chilli paste (optional)
Laksa paste
15 dried chillies
2 red chillies
3 tbsp dried shrimp, soaked
1 tsp shrimp paste
8 garlic cloves, peeled
1 shallot, peeled
2.5cm piece ginger, peeled
2.5cm piece galangal, peeled
5cm piece turmeric root, peeled
30g candlenuts
1 lemongrass stalk, peeled

Remove the heads and shells from the prawns and place them in a bowl. Devein the prawn meat and place in a separate bowl. Add half the cooking oil to a large saucepan set over a medium-high heat. Add the prawn heads and shells, then stir for 5 minutes, crushing the heads to release the flavour. Add 1.2 litres water and the chicken stock, then simmer for 45 minutes allowing the stock to reduce. Remove the prawn shells, then strain the stock into a bowl through a sieve.

To make the laksa paste, put the chillies, dried shrimp, shrimp paste, garlic, shallot, ginger, galangal, turmeric root, candlenuts and lemongrass stalk in a food processor, then pulse for 5 minutes until a thick paste forms. Add the remaining cooking oil to a large saucepan, then add the laksa paste and cook for 5 minutes until fragrant. Add the palm sugar, fish sauce, coconut milk and prawn stock, stirring to combine. Simmer the mixture for 15 minutes, then add the prawns and tofu puffs, cooking for 3 minutes to finish.

To serve, add vermicelli noodles to a bowl, then top with beansprouts, cockles and fish cake slices. Add laksa, including tofu puffs and prawns. Top with a handful of finely chopped laksa leaves and chilli paste, if desired.
RELATED STORY
INFORMATION
A version of this article was originally featured in the June 2022 issue of Wallpaper*, on newsstands now and available to subscribers.
caofei.com; spruethmagers.com (opens in new tab)
TF has been editor of Wallpaper* since December 2020. He is responsible for our monthly print magazine, planning, commissioning, editing and writing long-lead content across all our content pillars. He also plays a leading role in multi-channel editorial franchises, such as our annual Design Awards, Guest Editor takeovers and Next Generation series. He aims to create world-class, visually-driven content while championing diversity, international representation and social impact. TF joined Wallpaper* as an intern in January 2013, and served as its commissioning editor from 2017-20, winning a 30 under 30 New Talent Award from the Professional Publishers' Association. Born and raised in Hong Kong, he holds an undergraduate degree in history from Princeton University.
With contributions from