The Monkey Tree Hotel — Palm Springs, USA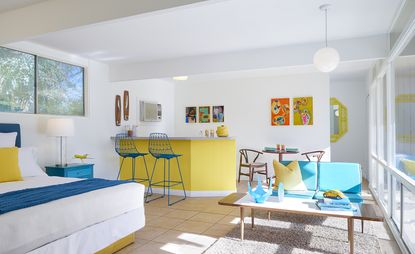 (Image credit: palmspringslife.com)
Swiss architect Albert Frey's inspiration for his famous 1960 Monkey Tree Hotel in Palm Springs was the elemental pull of the San Jacinto Mountains; he sited the courtyard to maximise views of the majestic peaks – spiritual beings to the local Agua Caliente Indians – as well as the light and energy of the sun. And the opposite angled slanted roofs that greet visitors at the entrance read like abstract expressions of various intersecting ranges.

But when current owners Kathy Friedle, a former studio head at New York architecture firm, Gensler, and her husband Gary first saw the place in 2015, it was hidden by thick vegetation. Mountains of native bougainvillea covered the entrance – a visual barrier to looky-loos who might have hoped for a glimpse of the nudist colony that had inhabited the place for the better part of two decades.

As the pair uncovered the mid-century bones of the hotel, and painstakingly re-created the 1960 era furnishings – by either repair, refurbishment or vintage buys – they also installed reflective glass on the extensive glazing that let the outside in, but kept peeping eyes at bay.

The result is a bespoke modernist retreat that has a cosy residential feel. Far from the mega hotels of downtown, this north end of town hideaway offers 16 rooms complete with kitchens, as well as an invigorating Scandinavian style sauna, plunge pool and original salt water swimming pool.

Less than a mile from the celebrity frequented Racquet Club, the Monkey Tree has hosted Lucille Ball and Desi Arnez, the Beatles and even JFK and Marilyn, but retains an unmistakable humility, grace and charm.
INFORMATION
Website
ADDRESS
2388 East Racquet Club Roa