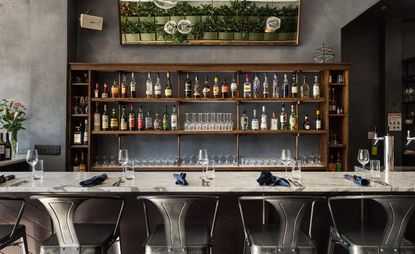 (Image credit: Press)
In the current dining scene, where 'farm-to-table' menus have become almost a standard expectation, chef Greg Baxtrom and former colleague Ian Rothman, have taken the concept to another level, by bringing the tables directly into the garden at their new Brooklyn restaurant, Olmsted.
Baxtrom established his reputation headlining at the renowned Alinea Chicago, Per Se and Atera in NYC, but for his first solo venture he wanted to create something a bit more laid-back and grounded. At the new Prospect Heights neighbourhood eatery, the menu is ingredient-driven, strictly seasonal and affordable, while the atmosphere is equally approachable and organic.
Named after Frederick Law Olmsted, the mastermind landscape architect behind Central Park and nearby Prospect Park, the experience at Olmsted begins, appropriately, among the roots. In the restaurant's serene backyard, fiddlehead ferns, asparagus, snap peas and radishes are grown, harvested and served up to diners as they relax on custom pine benches in the horseshoe-shaped garden. A full snack and drink menu is served al fresco allowing diners to nosh on snap pea sushi, refreshing radish top gazpacho with smoked trout roe and crawfish boil crackers before heading inside the airy interiors for dinner.
Baxtrom and Rothman led the design and build-out of the space, soliciting help from Baxtrom's carpenter father, Mike. The 50-seat restaurant features an open kitchen with chef's counter seating, a 12-seat central bar and living green wall that will extend down the white brick walls to the maple and walnut butcher block tables. Statuary marble countertops are juxtaposed against repurposed wood salvaged from Baxtrom's family barn on their farm outside of Chicago, yet another layer of bringing the farm experience into Brooklyn.
INFORMATION
Website (opens in new tab)