Gorgeous George — Cape Town, South Africa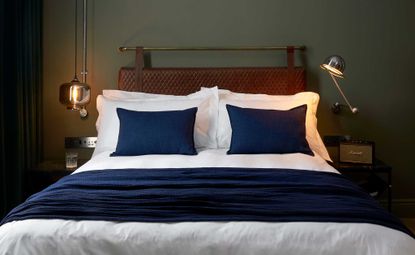 (Image credit: Frances Marais)
Bolstering an already expansive design landscape, Gorgeous George has just opened its doors in Cape Town's vibrant inner city. Located between St George's Mall and the famed Green Market Square, the 32-room boutique property comprises two landmark buildings – one Art Deco, the other Edwardian – originally stitched together in the 1940s and now repurposed by local firm Urbane Citizen Architecture.

Inside, the Johannesburg-based interior designer, Tristan du Plessis has focused on a strong contemporary African aesthetic, dressing the raw, urban bones of the building, like the steel window frames and concrete beams, with a bold palette and pieces from top South African talent including furniture by David Krynauw, Gregor Jenkin, Dokter and Misses and Porky Hefer, whose crocodile swing chair certainly turns heads. 'I wanted to go with people who were making really unique contemporary African design, like Jenkin, who is taking Victorian-style design and turning it on its head by crafting it in metal,' explains du Plessis.

Diversions, of course, are dominated by Cape Town's wine, surf and mountain offerings, but don't miss out on Gigi Rooftop, the hotel's plant-filled indoor-outdoor bar, restaurant and pool space, where chef Guy Bennet serves a menu of updated classics – using fresh, local and seasonal ingredients – against a backdrop over downtown and beyond.
ADDRESS
118 St George's Mall