AlmaLusa Baixa-Chiado — Lisbon, Portugal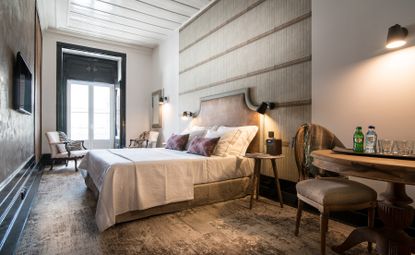 (Image credit: TBC)
The Portuguese capital is on a roll right now, with new hotels opening apace. The latest is AlmaLusa Baixa-Chiado, a boutique hotel tucked into a charming corner, offering a slice of history and rooms with a view from within its 18th century frame.
Once the city's arsenal, it sits on the magnificent Praça de Munícipio, one of Lisbon's most emblematic squares, which is paved with its characteristic, calçadas - or cobblestones - and is dominated by the neo-classical façade of the City Hall.
The 28-room gem is the debut property of AlmaLusa Hotels, founded by hotelier Miguel Simões de Almeida, who promises to bring the decidedly understated, historically rich and elegantly contemporary feel to other corners of Lisbon soon.
Drawing on all things Portuguese from textiles to soaps, designer Giano Gonçalves has skilfully woven original flagstone floors and ancient fireplaces with 21st century comfort and technology. The rooms use rich textures in a muted palette of soft browns and greys, whilst the bathrooms, with showers not tubs, mix black slate and white tiles.
Delfina Restaurant, with its brasserie vibe, continues the Portuguese theme with dishes of fried octopus with tomato rice and variations on the national dish, Bacalhau.
ADDRESS
Praça do Munícipio 21