Sydell group taps Roman and Williams for its first NoMad outpost in London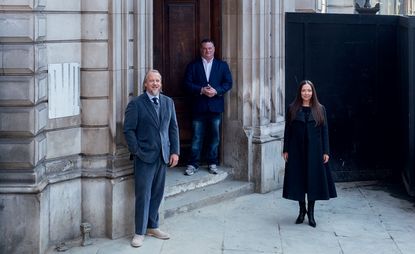 (Image credit: Oskar Proctor)
Wallpaper* Newsletter
Receive our daily digest of inspiration, escapism and design stories from around the world direct to your inbox
Thank you for signing up to Wallpaper. You will receive a verification email shortly.
There was a problem. Please refresh the page and try again.
For a long time, Bow Street in Covent Garden has been a rather dead and dirty artery. But it got its heart back overnight when the scaffold came down last autumn to reveal Stanton Williams' svelte refurbishment of the Royal Opera House. In summer 2020, the opening of the 91-key NoMad London in the building opposite – once Bow Street Magistrates' Court – should complete the resuscitation.

The hotel is a partnership between Sydell Group and investment firm BTC UK. This is the first NoMad outside America, but the second project in London by Sydell Group, which partnered with the Soho House Group to open The Ned in 2017. While working on that beast of a project, Andrew Zobler, CEO of Sydell, visited London once a month for five years. 'I learned a lot about the city in that time,' he says. 'I would never have opened a hotel here without someone who was English. I think we're ready now, and this building is perfect for a NoMad.'

NoMad is one of four hotel brands under the Sydell Group, alongside Freehand, The Line, and Saguaro – all based in America. The name comes from the NoMad district (North of Madison) in New York, where the group's debut hotel opened in 2012. In the Sydell family, NoMad is the wild child who grew into an eccentric older sibling. Its hotels occupy historic properties, and they are richly layered, balancing comfort and drama. As a result, they feel adult but with room still for mystery and occasional illicit behaviour. A NoMad makes perfect sense for a bruised, Brexit-era London.
It makes perfect sense for Bow Street Magistrates' Court, too. Completed in 1881, the Grade II-listed Victorian building operated as a court and a police station until 2006. A colourful cast of historic characters have stood trial here, including Oscar Wilde, Emmeline Pankhurst, the Kray Twins and Augusto Pinochet. Since 2006, it has changed hands several times, as is customary with historic buildings of stature in the heart of London; the British often struggle to be brave with them, and foreign buyers lose patience with the labyrinthine planning restrictions.

'You really had to believe you could do something special with it,' Zobler says of his success where others stumbled. 'London does small hotels well, and grand hotels that have a sense of history and place, but they are rarely exciting. If we get it right, NoMad will be comfortable, entertaining and with a sense of place that is exciting, too.' By 'we', Zobler is referring to his design partners on the project: Robin Standefer and Stephen Alesch of Roman and Williams. Although the New York-based studio helped Zobler (and Atelier Ace) break new ground in urban hospitality design with the Ace New York a decade ago, and worked on Sydell's four Freehand properties, all NoMads to date have been designed by Jacques Garcia.

'Taking NoMad across the Atlantic made us think carefully about our core values,' Zobler says. 'NoMad is interesting because it has a soft tension: it's New York bohemia meets classic French; in LA, it's Italy meets California cool. We want this project to be a conversation between London and New York; so Roman and Williams makes perfect sense.' Zobler is keen to develop the NoMad brand aesthetically as well as geographically: 'This is the most intimate of all our NoMad properties. I wanted to see how we could push the experience here, combining residential comfort with fantasy in a more luxurious way.'

Roman and Williams is anthropologist as much as designer. Fittingly, alongside NoMad London, the studio is currently working on the redesign of the British Galleries at the Metropolitan Museum of Art. 'We've spent the last few years immersed in conversations about Britishness and British identity,' says Standefer. 'It was a fortuitous training for our first project in Britain.' The pair are now well-versed in English domestic social history, talking fluently about Burghley, Sissinghurst and Knole as 'homes' rather than stately houses. 'There is something grand yet so comfortable in these incredible places,' sighs Standefer. 'The layers, the textures, the textiles, the objects and influences from so many different parts of the world. It has all percolated into our design for the NoMad.'

You might wonder how a New York studio could tie together a rural English manor with a Victorian courthouse in London and conjure up a comfortable hotel. When asked how they might imbue a sense of hospitality in a building designed to intimidate, the designers are not fazed in the slightest: 'We are interested in how to reanimate historic architecture, understanding its history but not fetishising it,' Alesch explains. 'We edit. Many aspects of historic culture were brutal. There's nothing more satisfying than taking a building that was intense – whether it's a men's club or a police station or a school – and breaking it free by giving it a future.'

If all goes according to plan, around 18 months from now, NoMad London will open its doors and guests will be transported into a compelling world quite unlike anything that exists elsewhere in the capital. Most bedrooms have soaring ceiling heights, which will be softened with a theatrical drop of heavy textile curtains, while others will be housed in some of the former cells, opened up with new windows (the others will form part of a small police museum, as London's first professional police force was based in the building). Antique furniture will be combined with custom pieces, while an ambitious art programme will be curated by Be-poles.

Public areas on the ground floor will include a fairly casual 'booth food' restaurant in one corner, a signature NoMad library space and a 100-capacity function room in the former courtroom. Below ground, a lounge bar will be located in the old coal vaults. As with existing NoMads, all food will be directed by restaurateur Will Guidara and Michelin-starred chef Daniel Humm.

One of the biggest interventions is the construction of a glass ceiling to create a three-storey atrium connecting the historic structure with the new-build section at the rear. The heavily planted space will have the feeling of an Edwardian greenhouse. 'When old buildings have been out of operation you often see nature starting to reclaim nooks and crannies,' Alesch says. 'We loved how nature was breaking into this strong, masculine building – the femininity creeping in was a big inspiration. We wanted to let the sunshine in, to liberate it. In an idealistic way perhaps, 80 years ago the building's occupants might have dreamt of it being like this.' How beautifully Wilde.
As originally featured in the May 2019 issue of Wallpaper* (W*242)
INFORMATION
For more information, visit the NoMad website and the Roman and Williams website
Receive our daily digest of inspiration, escapism and design stories from around the world direct to your inbox