The White Room — Amsterdam, Netherlands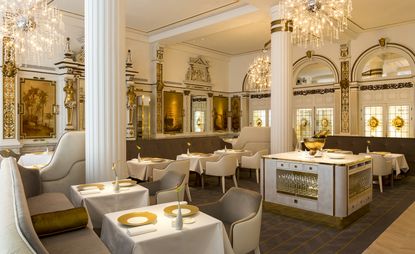 (Image credit: TBC)
Chef Jacob Jan Boerma and the NH Hotel group have reopened the doors on The White Room, the flagship restaurant of Amsterdam's historic Grand Hotel Krasnapolsky at Dam Square.
It is considered to be the oldest continually running restaurant in Amsterdam – De Witte Zaal first opened its doors in 1885. The restoration by London based Studio Proof is sensitive to the restaurant's status as a listed monument. Original wall-panels, artworks and ceiling ornaments have been preserved and enhanced, complemented by neutral pallet of white, brass and sand.
It is a dining room as grand and ornate as they come, anchored in the now by Boerma's thoroughly contemporary cuisine. Renowned for pairing familiar ingredients in unexpected ways, at his regional restaurant De Leest, Boerma is one of only two chefs in the Netherlands to currently hold three Michelin stars.
ADDRESS
Dam 9