Laqua Vineyard resort is a tranquil Tuscan escape
Laqua Vineyard resort is a six-suite haven in the rolling hills of Tuscany, with a Michelin-starred restaurant and interiors by Italian studio Lamatilde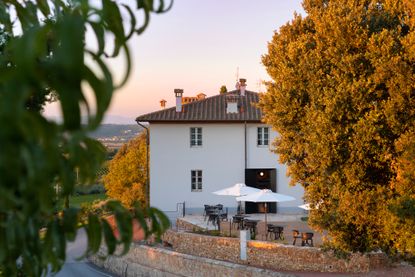 (Image credit: Photography: Beppe Brancato)
Laqua Vineyard Resort in Tuscany is the fourth Italian venture by the Cannavacciuolo Group, and opened in summer 2022. The resort's restaurant, led by head chef Marco Suriano, gained a Michelin star rating within only five months of welcoming customers. Factor in the requisite wine-tastings, the setting in the sprawling Tuscan landscape, and elegant interiors by Turin-based design studio Lamatilde, and Laqua Vineyard is delivering enviable luxury on many levels.
Laqua Vineyard: a Tuscan hideaway
The resort's remote setting makes for a romantic location, and with just six suites, this is a compact, tranquil Tuscan vineyard getaway.
The suites, each with a name drawn from Greek mythology (Cupid, Aphrodite, Narcissus, Eurydice, Dionysus, and Penelope), feature Lamatilde's interiors, with a focus on a feeling of 'home'.
Above all, though, the resort is an ode to the love story between food and wine, expressed in part through the restaurant interiors. The team at Lamatilde designed this space with a nod to the location's history as the site of a theatre. Curtains punctuate the interior and create 'stages' within its different areas. The open kitchen sits at one end of the restaurant space, giving it a dedicated focus, and a wine-tasting table allows large groups to gather for tasting experiences.
As well as this Tuscan idyll, the Cannavacciuolo Group – the venture of chef Antonino Cannavacciuolo – has three further properties in the Campania and Piedmont regions of Italy, with locations beside the sea, a lake and in the country, each proposing a different type of holiday.
laquavineyard.it (opens in new tab)
matilde.it (opens in new tab)
Martha Elliott is the Junior Digital News Editor at Wallpaper*. After graduating from university she worked in arts-based behavioural therapy, then embarked on a career in journalism, joining Wallpaper* at the start of 2022. She reports on art, design and architecture, as well as covering regular news stories across all channels.
With contributions from