Kengo Kuma's Ace Hotel Kyoto opens in a converted telephone office
Discover the design details of Asia's first Ace Hotel, as realised by architect Kengo Kuma and Commune Design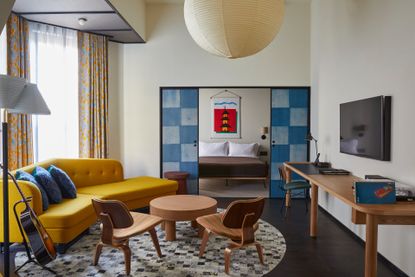 (Image credit: TBC)
A doughnut-shaped front desk made from hand-hammered copper; a large textile sign with a white coffee pot on an indigo background; and delicate light clouds hovering in a Japanese-style interlocked kigumi timber ceiling.

The lobby of the new Ace Hotel Kyoto – the first Asia outpost of the original US hipster hotel company – is not only bright and buzzy, spacious and colourful: it's also a comprehensive showcase of modern Japanese craftsmanship.

The hotel has opened following several months of coronavirus delays in the new Shin-Puh-Kan complex on Kyoto's Karasuma Street. Masterminded by longtime Ace collaborators Commune Design, plus architects Kengo Kuma & Associates, it's a bold new addition to Kyoto's hotel scene, where concepts of luxury have traditionally been equated with a more low-key minimalism.
In contrast, Ace Hotel Kyoto – unusually large, with 213 guestrooms and three restaurants – is a celebratory mesh of Ace's DNA and Japan's high quality craftsmanship, showcasing bespoke creations by around 50 artisans.

'The hotel is a meeting between east and west through a love of the handcrafted,' explains Roman Alonso, principal of LA-based Commune Design who masterminded the design, via Zoom. He cites Charlotte Perriand, Isamu Noguchi and Ruth Asawa as inspiration. 'Ace is not a minimal brand. It likes a layered and informed environment. It's not about being chic, it's about personality.'

Centre stage is Kuma's renovation of a 1926 building by modernist master Tetsuro Yoshida – a rare monolith of brickwork, high ceilings and arced windows, formerly home to Kyoto Central Telephone Office. Kuma also added a new building with an angular gridded façade, an abstract modern take on Kyoto's traditional machiya townhouses, made from oxidized iron mixed with precast concrete panels.
Highlighting hopes of creating a 'new street culture' in Kyoto, Kuma explains: 'I wanted to connect the human vibe of this historical street in Kyoto and the delicate design implemented by Tetsuro Yoshida in the old Kyoto Central Telephone Office, which was the driving force for modern architecture in Japan, with the unique industrial ambiance of Ace Hotel.'

Bright artworks line the lobby walls, beneath timber eaves inspired by Kyoto's temple architecture, including textiles by Shobu Gakuen, an artist community in southern Japan, and neon goddess-like artwork by Hysteric Glamour creator Nobuhiko Kitamura. A long wooden table, tapping into Ace's community concept, cuts through the centre, alongside mid-century inspired furniture, upon Edward Fields' reissues of George Nakashima's 1960s rugs.
A traditional stencil-dyed textile coffee pot sign by 97-year-old artist Samiro Yunoki – an original member of Japan's mingei craft movement who also created the hotel's logo and font – marks the entrance to Portland's Stumptown Coffee Roastery Coffee Shop.

A chic collection of boutiques (from Maison Kitsune to kimono tailors Y.& Sons) line a courtyard garden, which has oak tambour walls, glaze test tiling by Shigaraki potters and Korean Pojagi-inspired curtains by US artist Adam Pogue.

The guestrooms showcase a similar east-west fusion: curved edges of Judd furniture-inspired benches in the genkan, Osvaldo Borsani's Sputnik coat hooks and TEAC turntables, to tatami-lined bedside tables, and washi paper ceilings. The 27 guestrooms housed in the historic building are a particular highlight. Here, original high ceilings and wide, arced windows create a loft-style ambiance.
Food is a key draw, across three hotel restaurants. There is cosy Mr. Maurice's Italian, with menus by Philadelphia chef Marc Vetri. Here, beneath indigo-dyed bamboo ceilings, the space is partitioned with pastel screenprinted canvases of abstract curves and lines and monochrome penny tiled flooring, both by Kori Girard (Alexander's grandson). The nearby roof terrace has delicate woven copper lanterns, crafted by Kyoto's Kanaami-Tsuji, in material normally used for Japanese kitchen tools.

It's all about tacos in Piopiko, a lively party setting with a menu by Wes Avila of LA's Guerilla Tacos – with curved ocean blue seating, terrazzo tabletops, a bar made of chunks of Californian red wood by artist Ido Yoshimoto (cut with a chainsaw in the late JB Blunk's workshop), stacked lighting by Nara's New Light Pottery and a cooper DJ booth.

A third restaurant by Portland chef Naomi Pomeroy – still unnamed and opening later this year – is housed in a double-height tearoom-inspired space, filled with eight-feet cut-out paper lanterns crafted by two brothers at Kyoto's Kojima Shouten. Diners will be seated among Art Nouveau-inspired wall frescos, by Kyoto karakami paper artist Ko Kado of Kamisoe alongside the metalwork of artist Junichi Shimizu, while overlooking a rooftop Japanese garden – using rocks found during the site's excavation – by Shunsaku Miyagi of Placemedia.
INFORMATION
acehotel.com/kyoto/ (opens in new tab)