How architectural boutique hotels transformed Portugal's fortunes
Over the past decade, a wave of architecture-led boutique hotels has put Portugal on the map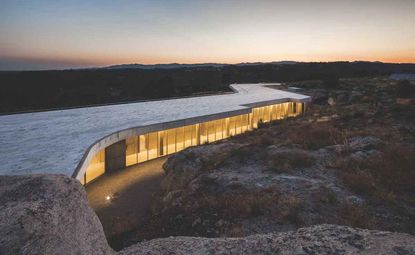 (Image credit: press)
There are moments when history forces big changes in architecture.' Insightful words from Pritzker-prize winning architect Álvaro Siza Vieira in response to the rise of architectural creativity in the hospitality industry after Portugal's devastating 2008 recession.
Indeed, the changes might have been big, but the resulting designs up and down the country – from giants such as Siza Vieira to acclaimed architects like Manuel Aires Mateus – were notable for their intimacy.
It was a new departure for a country where tourism had previously revolved around mass-market concrete hotels which had dominated much of the Portuguese landscape for too long. The tangible, collective energy that burst forth, drew on the natural assets of the country: its sunshine and beaches, rich cultural heritage, the innate hospitality of the people, and a deep-rooted desire to create a Portugal that the nation could be proud of and which would attract others to its shores. There was also an understanding that less is more; manageable projects – with room for just a handful of guests – but with a design-form that made it stand out from the crowd, appealed to both owners and architects alike.
Siza Vieira led the foray with his starkly minimalist white marble spa at the ornate, turn of the century, Vidago Palace Hotel (W* 169), which had recently been restored. It is an extraordinarily successful juxtaposition of styles: the spa, bold, uncompromising and linear, runs forcefully into the belle époque palace, neither dominating nor diminishing it.
Meanwhile, Lisbon-based architect Manuel Aires Mateus was hitting architectural headlines at the 2010 Venice Biennale (opens in new tab) of Architecture when several of the recent projects he put forward to represent him at the exhibition were turned down in favour of Casas Na Areia, a guesthouse in the rice-growing wetlands of Comporta. Here, sheltered among a cluster of dunes with views of the Sado Estuary, four abandoned thatched-roof fishing cottages – two with white-washed concrete façades and the other two clad traditionally with vertical reeds – were restored by Aires Mateus who, in creating a strong sense of place, preserved their authenticity while bringing them into the 21st century with sleek white-on-white interiors and, most notably in the main living space, a carpet of sand warmed by underfloor heating.
It was – as owner João Rodrigues realised – too good not to share. And so, what was intended as a private family home, ended up as the first in his small hotel group Silent Living, which – all in collaboration with Aires Mateus – now comprises five boutique properties including Santa Clara 1728 (W* 216), a beautiful six-room hotel perched atop one of Lisbon's seven hills, and a soon-to-open guesthouse in the picturesque town of Monsaraz in the Alentejo region.

Back up north, not far from Vidago Palace Hotel, architect Luis Rebelo de Andrade was fulfilling his childhood dream of creating tree houses, along with a series of 13 eco-cabins at Pedras Salgadas Spa & Nature Park (W*169). Flawlessly slotting between twenty hectares of soaring pines, large sequoias, red squirrels and strawberry trees, Rebelo de Andrade's innovative, immersive designs were assembled onsite, each with floor-to-ceiling windows and pared back interiors that highlight the surrounding nature. Meanwhile, the two treehouses, which wind their way up into the canopy and are accessible via a wooden bridge, each have skylights for in-bed stargazing.
Indeed, one of the highlights at L'AND Vineyards is its starry skies. Located in the heart of Alentejo – a region famous for its lack of light pollution – the 26-room retreat seamlessly blends modern architecture and nature with a low-lying, angular frame, by international firm Promontorio, and interiors by Brazilian designer Marcio Kogan, whose signature use of natural materials – stone, black slate and wood – perfectly echo the authenticity and rawness of the surrounding landscape.
Further down the road, the dazzling white modern lines of Villa Extramuros – a stark contrast to the traditional quintas, or manor houses that dot the plains – is the work of Lisbon-based architect Jordi Fornells. Here, briefed by the owners to use local materials, the architect's latest addition was to insert two one-bedroom cork-clad cabin suites a short walk from the main five-room villa, among the olive groves.
Of course, while cork is one of Portugal's most defining materials, for Rio do Prado, a tiny eco-resort just outside the hilltop town of Óbidos, architect Jorge Sousa Santos constructed the 15 turf-roofed concrete suites using mainly recyclable materials from discarded wooden doors to woven rope mats. 'What pleases me the most is the paradox of using sophisticated architectural design with the humblest of materials,' he explains. 'Fifteen years ago, architecture in Portugal was the opposite of landscape, it was construction. But now architects have begun to integrate this construction into the landscape.'
This is exactly what architect Joel Moniz – of Atelier Carvalho Araújo – did with Quinta de Lemos, a winery set amongst the hills in central Portugal with a Michelin-starred restaurant and just three guestrooms. 'We are just transitory, while nature continues,' says the property's owner, Pierre de Lemos. Indeed, the design certainly gives nature the upper hand, with the building inserting itself sinuously through the granite boulders that surround it, its roof being the entry point. With handwoven linens, bath towels and rugs from de Lemos' textile company Celso Lemos adorning the rooms, regional bounty from chef Diogo Rocha on the table, and wine provided directly from the rolling vineyards outside, de Lemos says: 'What I wanted to do, was show people what Portugal is made of.' Indeed.