The Mercer hotel library by Dashwood Books is an analogue delight
The Mercer hotel in New York is embracing analogue pleasures, including a library curated by Dashwood Books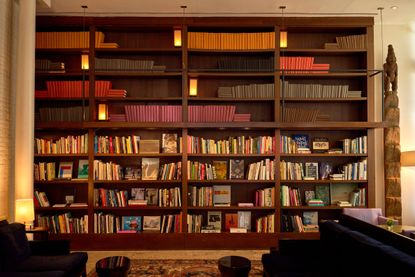 (Image credit: Giada Paoloni)
The old is always the new. And that iconic beacon of culture the Mercer Hotel in SoHo, New York knows this best. In a world where there are too many screens, too many digital moments, and endless impersonal emails, The Mercer is offering us old-world charm, not least in the form of its first-ever library, in collaboration with Dashwood Books.
As a property – in a landmark Romanesque revival building – the hotel is embracing little touches from the old world, and exploring what analogue looks like. The Mercer has opted to return to real room keys that have weight in the hand, and handwritten notes with fresh flowers to delight guests.
Most wondrously, there are no iPads and extra screens in the rooms complicating the simplest tasks. Even their iconic clock with hands, and their new bees on the hotel rooftop feel like a hankering for the wholesome and the more natural.
The Mercer hotel's library curated by Dashwood Books
One of the hotel's most incredible feats is its new private library, with floor-to-ceiling mahogany bookshelves curated by Dashwood Books and tended weekly. The choice of Dashwood Books was easy – a neighbourhood institution just three blocks away, it is known for equipping Gucci's nearby 63 Wooster Street bookstore with some 2,000 titles, and curating many private collections.
'I opened my specialty store 17 years ago now, inspired by the Japanese book culture, where they honour and respect books above all,' says David Strettel, photographer and owner of Dashwood Books.
'People respond to art books – they have a visceral reaction to the amalgam of good design and well thought-out content. I wanted to offer that to the guests of the hotel; they can peruse a carefully selected reference library in the lobby (or in the suites) and have a feeling of home away from home,' Strettel adds.
He brings in a variety of books – ranging from vintage design and photography titles to rare books imported from Japan, and others by independent European publishers that just won't sell elsewhere. You may find yourself enjoying a cup of tea and thumbing through Money by Prill Vieceli Cremers, Red Flower, The Women of Okinawa by Mao Ishikawa, or Annebella Pollen's The Kindred of the Kibbo Kift.
Besides the highly specialised and unique books, the hotel is also buying up independent magazines, so that guests can sit, order a cocktail and page away – just another touch of tactile nostalgia. These crucial and beautiful analogue moments are for putting down the phone, sitting quietly and meditating on all this book beauty.
mercerhotel.com (opens in new tab)
dashwoodbooks.com (opens in new tab)
Daniel Scheffler is a storyteller for The New York Times and others. He has a travel podcast with iHeart Media called Everywhere (opens in new tab) and a Substack newsletter, Withoutmaps (opens in new tab), where he shares all his wild ways. He lives in New York with his husband and their pup.