The Largo brings craftsmanship and creativity to Porto
The Largo is the latest hospitality offering in Portugal's second city, conceived as an elevated residence with an art programme that connects it to the city's creative community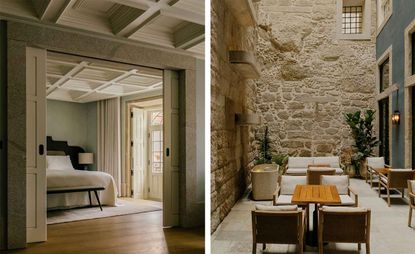 (Image credit: Luis Moreira, Courtesy The Largo)
Wallpaper* Newsletter
Receive our daily digest of inspiration, escapism and design stories from around the world direct to your inbox
Thank you for signing up to Wallpaper. You will receive a verification email shortly.
There was a problem. Please refresh the page and try again.
Many bijou properties make pains to stress their 'more-than-a-hotel' USPs – but The Largo feels like one of a kind. Set behind an unmarked green door on Porto's thrumming Largo de São Domingos, it's the brainchild of Danish hospitality collective Annassurra, located in a warren of former commercial and residential buildings restored by the lauded Lisbon-based architect Frederico Valsassina and embellished by 'poetic modernist' design studio Space Copenhagen.
The Largo, Porto: art and hospitality
The Largo has been conceived less as a hotel as an elevated residence – there's no welcome desk, no concrete check-out times, no explanatory interjections over dinner by the chefs – that looks to become a welcoming city mainstay rather than shut off and rarefied. A fundamental part of the appeal is the hotel's art programme. The Largo's founders have sought to embrace Porto's artistic community, filling its walls with murals, tiles, sculpture and ambient light pieces, works drawn from a host of local creatives.
The remit, explains art director Julian Sommer, 'came out of the necessity of doing something meaningful to the surroundings. A kind of holistic approach: "How do we create a space of home, an environment that not only does something good for guests, but also the local community?"' In practice, that meant reconciling The Largo's privilege; realising a high-calibre project that revolves around art but avoids simply acquiring pieces without cultivating relationships within a city quickly overtaking Lisbon as Portugal's creative nexus.
Art at The Largo
Some pieces are extant, some commissioned. There are two de facto big hitters: Rui Chafes' eldritch steel sculpture Luz Sobriamente Pura ('Pure Sober Light'); and a commissioned mural by the nonagenarian, Pritzker Prize-winning architect Álvaro Siza.
Chafe's 'floating' orb – suspended on a cloud of pitch steel tendrils – makes reference to the portholes in the pool above, while also channelling the theme of duality on which the Largo is built. 'It's a heavy material, yet it looks frozen in time as if it's flying away or landing down,' explains Sommer. 'This idea of being stuck in a state where you don't really know where you're going; a transformative process of 'I could go either way.'
Siza's mural, meanwhile, forms the focal point for Cozinha das Flores, the in-house restaurant helmed by chef Nuno Mendes; a dusky green/ochre melange of hand-sketched jazz musicians in full flow, and his only tile mural in Portugal. 'I proposed to make a panel in ceramic,' explains Siza of the concept. 'It's very usual in Portugal – or at least it was very usual. And thinking about a bar, it's agreeable to have good whisky and music. So I thought to make a panel with different drawings of musicians, like a small orchestra.' It's almost kinetic – encapsulating the convivial, bohemian and inclusive atmosphere the restaurant was designed to provide.
So it continues: the bathrooms home to a set of tile-walls by the 'progressive ceramicist' Bela Silva dubbed Kama Sutra of the Frog, another peppy work upending (or perhaps enforcing) the animal's usual connotations of fortune and luck by placing them in flagrante; the bar marked by both a dusky-pink and abstracted work created in sea salt by Maria Trabulo and a semi-opaque glass installation by Dutch designer Sabine Marcelis, emanating diffused light on its bar side and an artfully silhouetted view of the space on the other.
More striking still is a light installation in the foyer, conceived by Sommer and Can Yanardag, and produced by Vitamin Studio. Technicolor images of Porto's streets, taken by a local photographer, are overlaid into abstraction, changing with and reflecting the seasons, and creating a visual ambient wash that also, thanks to some natty projection tech, responds to touch.
Perhaps the most nuanced example of the philosophy is the hanging stucco/macrame hybrid A Shelter, by Maíra Mafra – created as a response to an open call to make work responding to and incorporating the decaying, geometric, centuries-old ceiling tiles found in the building during its renovation. It's a nuanced manifestation of the melding of hospitality, heritage and community intervention – and a neat summation of what The Largo is doing at large.
'We don't call ourselves the 'Home of Porto' just because it sounds different,' concludes experiences director Mathilde Carolina-Barosso. 'We don't want to just be there hosting. It's always a dialogue. We provoke. We incite. We question.'
Receive our daily digest of inspiration, escapism and design stories from around the world direct to your inbox