Väkst — Copenhagen, Denmark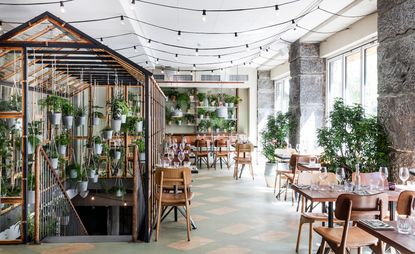 (Image credit: press)
A new restaurant featuring a greenhouse has opened in Copenhagen's buzzing Latin Quarter. Called Väkst - Danish for 'growth' - the eatery is located adjacent to Hotel SP34 and is part of Brøchner Hotels' masterplan to up the city's hospitality game by introducing hip, sociable properties that will rival the likes of international brands such as the Ace and Hoxton.
Smartly pairing up with local restaurant group, Cofoco - behind favourites such as Höst and Llama - the eatery's new concept is based around summer garden vibes. This is further reinforced by the interiors, where charming outdoor string lights illuminate a space that, furnished with an abundance of verdant pot plants, unexpectedly features a greenhouse at its heart. 'It was about designing a restaurant that creates an atmosphere that compliments and enhances the experience of the food we serve,' explains Christian Lytje, CEO of Cofoco.
Following suit, the Nordic menu, by chef Jonas Christensen, is rustic, fresh and light, with vegetables taking centre stage. As such, expect dishes such as the pork cheeks to be the sideshow to a substantial plate of greens. 'For us, it's the vegetable that has to be the main and then the meat is like the side,' notes Christensen.
And while Copenhagen is sometimes better known for its swathes of Michelin star restaurants, it's the locals that are determining the current hospitality scene. For Cofoco, that means providing easy-going restaurants, and quality food a great price. 'The reason I started at Cofoco, was because I wanted to make food for everybody,' affirms Christensen, who comes from a Michelin star background. 'Cofoco makes excellent food accessible to everyone at a fair price.'
INFORMATION
Website
ADDRESS
Sankt Peders Stræde 34