Kissa Tanto — Vancouver, Canada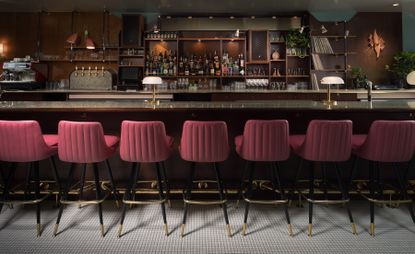 (Image credit: Knauf & Brown)
In an 'endangered' Chinatown caught in a tug of war between preservationists and developers, Kissa Tanto infuses new life into the upper floor of an old building that sat empty for 30 years.

Located in the 200 block of East Pender - a mix of local Chinese markets and hipster cafes – the Ste. Marie designed restaurant deftly weaves together multiple narratives and a new world Japanese/Italian fusion cuisine partly inspired by chef Joël Watanabe's own mixed heritage.

With a nod to Tokyo's 1960s jazu kissa - or jazz cafes - its iconic Hotel Okura, the story 'the Restaurant of Many Orders' by poet Miyazawa Kenji, and Italian architect Gio Ponti, restaurateur Tannis Ling's latest venture channels retro-charm in a playful contemporary vein.

Across the street from a Chinese senior's complex, Kissa Tanto has an almost residential feel, with a balcony full of greenery luring patrons upstairs into a welcoming yet mysterious space.

Here a collage of eras – from Italian modernist touches to 1970's style pleated lamps with custom brass elbows and expertly curated Chinatown chachka- evoke a sense of timelessness. A palette of walnut and maple and eye level lighting creates an intimate feel, while a high gloss coved ceiling and pearl coloured mosaic tile floor offer delightful luminescence. A bar with an impressive vinyl collection and enthusiastic cocktail shaking anchors the space between the cosy royal blue and dusty rose banquettes at the back and the buzzy front of house with Chinatown street views.

The cross-over cuisine – think potato tortellini with seaweed or tempura zucchini flower - is as subtly layered as the design, but it's the magical club-like ambiance that transports diners to another time and place.
INFORMATION
ADDRESS
263 East Pender Street
PHOTOGRAPHY
Knauf & Brown