The Broadview Hotel — Toronto, Canada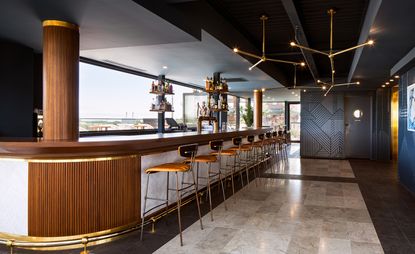 (Image credit: Worker Bee Supply)
The latest project to land in the fast gentrifying east end of Toronto is The Broadview Hotel, a 58-room hotel courtesy of local developers Streetcar Developments and design firm DesignAgency.
Housed within a 126-year old Romanesque Revival landmark, old meets new with a bold assortment of furniture, whimsical decorative pieces and eclectic wallpaper patterns that match the moods from eras long gone.
Meanwhile, in-room record players and collections of vinyl from the nearby Tiny Record Shop, along with artwork curated by consultants Tartar Art Projects, provide delightful finishing touches.
Outside, the humming neighbourhood is not short of food markets and green spaces, but personally, we're staying put to take in panoramic city views from The Rooftop, which serves up dishes such as fresh Bay scallop ceviche or kofte kebabs, using locally sourced southern Ontario produce.
INFORMATION
ADDRESS
106 Broadview Ave