XYZ Lounge — Ghent, Belgium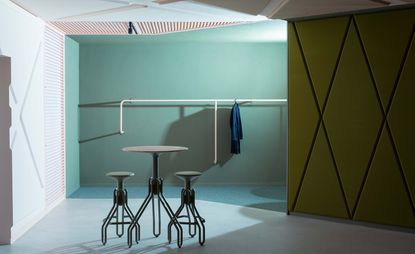 (Image credit: press)
After a successful collaboration for an exhibition in 2010, Alain Liedts, the owner of Ghent housing and art complex Zebrastraat, and architect Didier Faustino have teamed up again, this time for the interiors of the hub's new restaurant, XYZ Lounge.
Channelling bold sci-fi glamour from the oval 1906 concrete building, Faustino has lined the walls and ceilings with fleshy pink and olive green slatted panels, which are pulled into a spire-like atrium above diners nursing an aperitif while munching on prawn croquettes or Belgian style steak tartare.
Elsewhere, bespoke marble-veneer counters, threaded with pink swirls, are decorated with high army green stools, while matching rigid-looking 'Delete Yourself' chairs are arranged like a regiment in the screening room, which doubles up as an event space.
INFORMATION
ADDRESS
Zebrastraat 32