Bentley's design director on the return of its 1950s coach-building tradition
Bentley's design director, Stefan Sielaff discusses the launch of Bentley Bacalar – the tradition offering super-rare models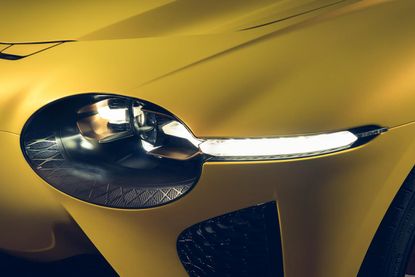 (Image credit: bentleymotors.com)
Bentley has a long history of building luxury cars, but its coach-building tradition – making very small numbers of vehicle bodies and interiors for discerning global customers – hasn't been a regular part of its product offering since the 1950s. Now with the launch of the Bentley Bacalar, that tradition is returning by offering super-rare models for those with the financial clout and aesthetic taste to desire it. Coachbuilt is one of three new divisions of Bentley's Mulliner business, the others being Mulliner Classic, where new versions of old Bentley icons like the 1929 Blower can be recreated using authentic techniques and materials and Mulliner Collection, offering personalised details within Bentley's modern-day production models.

Wallpaper* had an exclusive chat with Bentley's design director Stefan Sielaff to find out more about the new strategy and its first example: the £1.5m (plus local taxes) 659hp W12, two-seat, roofless luxury Grand Tourer Bacalar, limited to just 12 examples and featuring almost 150,000 artisanal stitches on each seat and 5000-year old reclaimed English wood within its interior.
Wallpaper*: Very limited edition cars by Bentley haven't been offered in the modern era until the Bacalar. When was the last one?
Stefan Sielaff: There were some special cars for the Sultan of Brunei in the 1980s but they weren't part of an organised plan. This coach-building idea goes back to the activities of Mulliner many decades ago, for example the 1952 Bentley Mulliner Continental R-Type.
W*: With such bespoke exterior panels and a very different interior treatment how long did the project take to develop?
SS: We started sketching and then building the Bacalar after we finished the EXP 100 GT concept car in the middle of last year. What we showed is literally what the customer will get. It is road-legal, certified and homologated. This was tricky for us, because we had to follow all the rules and legislation of our production car processes, which can take up to five years, and did everything in nine months.
W*: Where did you take inspiration from the EXP 100 GT concept?
SS: From both the exterior and interior, like having two headlights rather than four and with the running daylight light bar through them. We also took inspiration from the EXP 100 GT in the Bacalar's three-dimensional rear lights with this bone structure inside. On the interior we used more sustainable materials, like 5000-year old river wood and wool tweed from the Scottish border.
W*: Why is there no roof for the Bacalar?
SS: It connects the Bacalar to our historic cars like the Blower, also two seats, no roof.
W*: Are you thinking about a car cover at least?
SS: At the moment, no, but it's a really good point. I'll take this inspiration across to my colleagues at Bentley Mulliner. As we deliver the first cars at the end of this year we still have time to think about covers.
W*: Will each of the 12 Bacalars be different from each other?
SS: Every customer wants something absolutely individual and we are doing 'co-creation' sessions with the customers and our designers to really discuss what they want. I think one customer wants to go for the show car specification while others might want something more conservative or extrovert: there's a wide range. For sure, every car will be very different to the next one.
W*: Each seat has nearly 150,000 handcrafted stitches. How are they designed and can you have too many?
SS: [Laughs] One of my favourite parts on this car is the seat embroidery because it's extremely modern but also a very traditional craft. We can literally walk over the street to our people at the sewing machines with an idea and they come back after two days with an upholstered seat. We then look at it and modify it. This is our advantage at Bentley, we have craftsmen on site with know-how that we can use on big production number cars and also now especially for Bentley Mulliner's coach-building.
INFORMATION
bentleymotors.com
Receive our daily digest of inspiration, escapism and design stories from around the world direct to your inbox
Guy Bird is a London-based writer, editor and consultant specialising in cars and car design, but also covers aviation, architecture, street art, sneakers and music. His journalistic experience spans more than 25 years in the UK and global industry. See more at www.guybird.com