New Apple Watch Series 6 tested by A Cold Wall's Samuel Ross
The new Apple Watch Series 6 is here. Cross-disciplinary designer Samuel Ross puts it through its multi-faceted paces.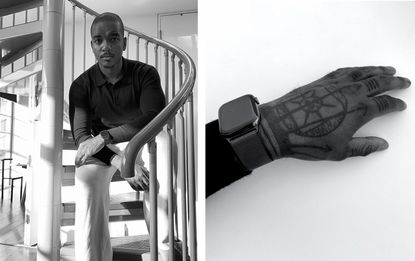 (Image credit: TBC)
Health and wellness are a key focus of this new iteration. Traditionally, a watch focussed on just one thing: time. Today, is that even the most important metric we need to measure our days by? What about health? Weather? Or sleep quality? Communication?
On the countdown to his Spring '21 show and in between moving house, Samuel Ross trials the new Apple Watch Series 6. A keen athlete who works 90-hour weeks as standard while being a dad, Ross is well placed to road-test its new functionality and optimisations. The big news: blood oxygen levels can be monitored through the new LED sensor in the crystal on the reverse, and an ECG that can detect a dangerous irregular heartbeat be generated in 30 seconds by simply touching the Digital Crown on the side. Plus, a 20 second timer to promote thorough hand-washing, and a new sleep app will track your resting behaviour. There are new faces that can be custom designed and shared. Siri has become more sophisticated, offering translations into 10 languages. Both ends of the age spectrum are being considered, with location mapping devices for children and an emergency fall SOS sensor for the elderly. Apple watch bands included the Braided Loop, made from 100 per cent recycled materials and the swim- and sweat-proof silicon Solo Loop with no clasps or buckles.
Wallpaper*: Is this your first Apple Watch or have you used one before?
Samuel Ross: I've had about four Apple Watches. I use them a lot; about half my time is spent wearing a classic chronograph and half my time is spent with an Apple Watch. I use Apple Watches for health, for tracking and monitoring performance, but also like the work and aptitude – I tend to find that an Apple Watch can keep up with the velocity of my schedule; I often have three of four different calendars overlapping and the Apple Watch is perfect for cross referencing what needs to be done quite quickly.
W*: What jumps out at you?
SR: Wearable, is an understatement. 'Device' removes the layer of the humanistic prowess at play here. 'Extension of the body' is the closest term that comes to mind.
W*: Thoughts on the weight and form?
SR: The weight is almost featherweight compared to my Rolex. You don't always want to be bared down by a heavy wrist, you want to be more dynamic. I've previously had a steel titanium case and I would say the immediate difference with the Apple Watch 6 is depth, hue and gradient and grey is a lot richer and sharper.
W*: There are new strap styles. What strap are you wearing?
SR: I usually wear the stainless-steel Milanese loop, but before the magnets did used to slide a bit. But that's definitely been improved in this version; the magnets appear to be a lot stronger. I haven't tried the Solo Loop just yet, but seeing that it's a singular loop that moulds and warps to your wrist is super interesting. There are a lot of hairline improvements they are making to each model. It's exciting to see that its not just the OS and key notions such as oxygen level tracking being highlighted, but the functionality and ergonomics of the watch and strap itself have been really developed.
W*: What about the face design? Do you prefer a digital chronograph or something more digital?
SR: I prefer to go for more of an infographic directive for the face. So the chronograph stays as the chronograph and with the Apple Watch I want to be able to absorb and take in as much information as possible. I have calendar, temperature, sunrise, sunset, elevation and air pollution clarity. Wearing an Apple Watch almost takes you into a different psyche. One thing that really interests me is the idea of different faces being changeable to serve different personas and professions. To immediately diversify the cache and catchment pool of individuals is a genius step. How can the watch be allotted to different demographics? They have really made it quite practical and engaging.
W*: How do you interact with the Apple Watch with regards to health? Will you use the blood oxygen monitor?
SR: I had my bloods done six months ago and everything looked great, but it's amazing to know that an Apple Watch can carry a lot of that intel and communicate that back. It speaks to how technology should be integrating in the 21st century. If you look at Home Deus by Yuval Noah Harari, he talks about this a lot. Its good to see companies using the capacity for technology to mesh with the human body in terms of servitude, rather than there being a wider gap with how we work with technology and machinery. It feels like a conversation that is being spearheaded by Apple, to be quite honest, on how tech should be integrated to support the body.
W*: How do you use the Apple Watch for training? On the 6, the Activity App is renamed Fitness and there are four new routines, including a Dance routine. Is this something you would use?! (There is also Functional Strength Training, Core Training and post-work out Cool Down.)
SR: Typically, I use it to track when I'm running, hiking and skipping. For me, it's really about cardio, with body temperature, heart rate, elevation.
W*: Let's talk sleep. Do you need help with a bedtime routine? The Wind Down app has meditation routines, can dim your lights. Does this sound appealing?
SR: I need help with sleep. Between moving house, designing the collection, my child, releasing films…the reality is when it's a 95-hour work week, you need assistance for sleep. So this is something I'm looking forward to exploring and taking advantage of! I think Apple is able to capture a collective shift in the public conscious of wanting to be a lot more receptive and responsive to what the public are asking for and needing from a product, and I think that's something we can't overlook. Their ability to actually respond in the form of UX and UI which immediately meet these needs. If you look at the size of the company, and the layers of horizontal and vertical management that are in place, they are still able to respond within a 6-8 month period of what the general public are asking for. It's really good to see this spirit of humanity and immediate response has not been lost in the continued growth of Apple.
W*: Do you use Siri on the Watch? Now it can translate into 10 languages – is this something that would be useful to you?
SR: Primarily I use Siri on my iPhone. But the new translation software is something I'm interested in. I bought a translation device recently from a start up on Kickstarter who has produced a small translation device. A brilliant idea, but in reality it wasn't ready to go to market. A translation device the size of a phone is just not that practical, but to see Apple tackling human dilemmas to a certain degree and integrating it into an existing device, it's going to be far easier to utilise.
W*: Do you use the Watch to listen to music?
SR: I sync across devices. You don't need to take your phone with you. We all know taking phones running can sometimes be a real irritant.
W*: So, what's your summary of the Apple Watch Series 6?
SR: Encapsulating both egalitarian glee and furrowed brows fixed on locating a defined pattern through the clouded landscape that has dominated Q1 to Q3 of 2020, I find both clarity and ease engaging with an operating system and ergonomic device that is plural by design. The belief system on which the Apple Watch has steadily matured personifies a malleable, iterative dialogue with its global community – echoing critical altruistic conversations held amongst the design team greatly revered for their cohesion and particularity.
INFORMATION
Apple Watch Series 6 (GPS) starts at £379 and Apple Watch Series 6 (GPS + Cellular) starts at £479
Samuel Ross tests the 44mm Graphite Stainless Steel Case with Milanese Loop (£749) with the Cypress Green Solo Loop (£49) and the Inverness Green Braided Solo Loop (£99).
Tilly is a British writer, editor and digital consultant based in New York, covering luxury fashion, jewellery, design, culture, art, travel, wellness and more. An alumna of Central Saint Martins, she is Contributing Editor for Wallpaper* and has interviewed a cross section of design legends including Sir David Adjaye, Samuel Ross, Pamela Shamshiri and Piet Oudolf for the magazine.