Bang & Olufsen team up with Benjamin Hubert to balance sonic design
Bang & Olufsen continue to change the way we experience music by collaborating with designer Benjamin Hubert for the 'Beosound Balance'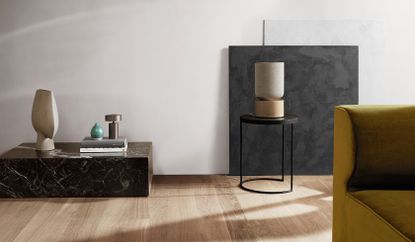 (Image credit: David Mitchell )
Bang & Olufsen has always been inseparable from high quality design. The Danish company's aesthetic heritage arose out of close collaborations with consultants, creating a harmonious, distinctive look that integrated cutting edge sonics with modernist forms. 'We have a rich tradition of collaborating with outside designers,' says Bang & Olufsen's vice president of design Gavin Ivester. 'We do a lot of work with young designers as well — we're always talking to new people.'

One of those new people was Benjamin Hubert of Layer. Hubert's studio, based in London's Hackney, has worked on many projects that bridge the realms of art, design and technology, alongside names like Airbus and Panasonic as well as new paradigm companies like Neo, Trove and the brand he co-founded with Asad Hair, Nolii. The collaboration with B&O seemed like a natural fit. 'They visited our studio a few years ago,' Hubert acknowledges, 'we both play in this space between art and furniture and they connected with that.' The Beosound Balance is their first joint project.
Although the aesthetic side of Balance appears fantastically refined, the form was driven by the complex arrangement of acoustic technology within. 'It's designed to be placed in the middle of the room, on the floor or on a shelf,' Hubert says, pointing out that it has to look good when it's not being used. Layer's team worked on literally dozens of prototypes and renders before arriving at the final object, two stacked cylinders that combine solid oak, either stained or natural, wool-blend knitted fabric covers and anodised aluminium control surfaces with etched, back-lit flush buttons. Apart from the subtle fire-engraved Bang & Olufsen logo on the wooden base, the non-technically minded would be hard pressed to distinguish the Balance from an elegant vase or table-top sculpture.
The Balance is designed to look good even when it's not in use. Sculptural solidity and monolithic, minimal forms have been a core characteristic of B&O's products ever since the days of Jacob Jensen, Henning Moldenhawer and David Lewis. Ivester knows there's a strong legacy to build on, and today's rapidly advancing audio technology offer new ways of designing for sound. In the case of the Balance, the sonics are quite literally shaped by a complex Digital Sound Processing unit that calibrates the unit according to its placement within the room. Integral microphones and sensors work out the reflectivity of the space, its size and the proximity of walls and ceilings. Although there are no moving parts in Balance, the way in which it interacts with its environment and the listener allows the speaker to create a sense of three-dimensional sound.
The accompanying app lets you shift the point of focus around, from left to right, enhancing bass or treble, vocals or instruments and saturating the space with sound. It's giddily enveloping, a remarkable testament to the way in which cleverly programmed DSP can use multiple speakers in a single unit to utterly transform the way we listen to music.
Music, radio, podcasts, etc. are streamed from your mobile device using Bluetooth or Airplay2, a seamless connection that we've nonchalantly accepted as normal. 'There's a broad diversity of expectations in how sound is delivered,' says Gavin, 'People still want objects. We still have a very strong market in systems that have to be delivered on a pallet and installed by a technician. [With Balance] people just want it to work.'
Ivester's own track record is impressive. He spent much of his early working life on the West Coast with Apple, where he was responsible for the first PowerBook, later becoming head of footwear design at Nike and then running Puma's entire footwear division. 'I was aware of Bang & Olufsen since the 1980s – it was always the pinnacle of clean design,' he recalls, and a consulting role eventually blossomed into the VP job. Today, with his family and career relocated to Denmark, he tells us he's 'totally consumed by this role.' Although Ivester notes that 'the importance of wearable sound solutions has become much more important,' he's adamant that the key elements of B&O design are still hugely desirable. 'This brand has never been nostalgic,' he says, 'we always push forward.'
The partnership is a sound one. Acknowledging that Layer's ongoing work with B&O often has to 'walk a tightrope between design and heritage,' Hubert enthuses about an era of 'soft tech', where design is about enabling function, not simply expressing new technology. 'We live in a hyper-connected world,' he says, 'everything is available but it's all digital.' Ivester reminds us that although the brand's party trick – sliding, gliding and transforming physical components – isn't present in the Balance, there is still a strong element of interaction, with proximity sensors that light up the UI as you approach. 'The challenge is to do that in a very B&O way,' Ivester says. Balance might be designed for very different ways of consuming music, but its timeless form is pure Bang & Olufsen.

The company's rigorous design policy also extends to its stores. In New York, a new flagship is due to open mid-March, designed in collaboration by Shinichiro Ogata's Tokyo-based studio Simplicity. The result is a blend of the expected – Scandi-style tastefully crafted wood – with a more hard-edged, industrial aesthetic. It's all highly crafted, but the bare brick and pipes are a bold step away from sleek minimalism towards a warmer, more organic approach to retail space.
INFORMATION
Beosound Balance, £1,750, bang-olufsen.com (opens in new tab)
layerdesign.com (opens in new tab)
simplicity.co.jp (opens in new tab)
Jonathan Bell has written for Wallpaper* magazine since 1999, covering everything from architecture and transport design to books, tech and graphic design. He is now the magazine's Transport and Technology Editor. Jonathan has written and edited 15 books, including Concept Car Design, 21st Century House, and The New Modern House. He is also the host of Wallpaper's first podcast.