Is this the future of connected urban transport?
The Zbee is a highly-connected, shared urban transport pod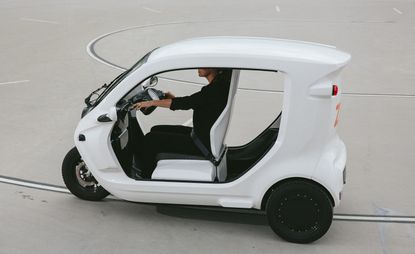 (Image credit: Press)
It resembles a contemporary auto-rickshaw, with its three-wheels and unassuming look. The Zbee boasts an advanced fiberglass structure and is made using a Lego-style modular production method, with a practical battery-swapping solution. As the premier product from the Swedish sustainable transport brand Clean Motion, the Zbee taps into the zeitgeist for gadget-style urban transport that is practical, communal and ecologically responsible. Wallpaper* caught up with its inventor, product design engineer and head of brand marketing Christoffer Sveder to discover more.

Wallpaper*: What is the story behind Clean Motion?
Christoffer Sveder: The company was founded over a decade ago by the CEO Göran Folkesson, alongside his father Hans Folkesson, a former Volvo chief technology officer. and the current chair Niklas Ankarcrona – with a mission to develop the most energy-efficient vehicle. I joined them seven years ago.

The automotive sector is not cutting resource and energy waste enough to make a significant impact to battle climate change. We think we have a solution: by using simplicity as a design guide, advanced fiberglass structure and small batteries, we have set the path towards a lightweight vehicle that consumes a minimum amount of energy.

W*: Tell us about the Zbee city pod – your first product.
CS: We have reinvented an already common vehicle concept, the auto-rickshaw, used around the world in very dense traffic environments especially in Asian cities. The Zbee is available in two variants: a smaller passenger and cargo. It sits in a segment between bikes and cars, is fully connected and offers shared transport scheme solutions to fully support the growing number of mobile delivery service companies in cities.
W*: You talk about simplicity in design, but how has this and the modular manufacturing reduced production and maintenance costs?

CS: It is about minimalistic multipurpose: to use as little resources as possible in every step. As an example, the pod contains only 270 parts in total, built on a modular architecture that is a little like a Lego assembly. This method enables short lead times and reduces the need for advanced tooling.



The simplicity also reflects in the interior: the interior and exterior are moulded as one component, and the roof and rear of the pod is the same element. The composite body is beautiful, lightweight and strong – its monocoque design functions both as the shell and structure. This is at the heart of our philosophy.

W*: The Zbee works with advanced fiberglass. Why choose this material and what challenges did you face with manufacturing?

CS: We needed more affordable lightweight composites and carbon-fibre doesn't make for urban use-cases with small vehicles and low speeds. Fiberglass is very common in the boating industry and wind power plants. To use it on a road-worthy vehicle and higher production volumes, we have carried out multiple research projects on how to reach the full potential of fiberglass composite from a durability and economic perspective.
W*: The Zbee interior design is also clear of unnecessary decoration. What can you tell us about the sustainable ideas and materials utilised here?

CS: The interior is stripped down, and in its dark soft grey tones, feels functional yet comfortable. The Zbee body is both the exterior surface and interior wall. That is part of the simplicity mind-set – to make as many features as possible in each manufacturing step. We are also looking at how to use sustainable fibres such as (the vegetable fibre) Jute in the body.



W*: Clearly as shared pods, these Zbees need to be highly connected.

CS: Absolutely, they are fully connected both with the Cloud and Bluetooth. The fleet operator can access all vehicle data – GPS, state of charge, battery health – through ZbeeConnect, start and stop the pod as well as geo-fence them through a service we are launching soon. This is aimed to support the growing use of city mobility where e-scooter operators have been scaling fast in the last couple of years. This minimobility offer will be aiming to fill the gap between the micromoblitiy and cars – macromobility.

RELATED STORY

W*: Who do you see as the Zbees' primary consumers?

CS: The business model is focused around sustainable mobility with fleet sales to professional 'last mile' operators like taxi and shared vehicle fleets, as well as delivery of goods and urban service providers. The vision is to offer clusters of Zbees as a mobility package including connected services. We want to create an affordable, efficient e-mobility solution that is so needed in today's world.

The distribution model is based on our micro factory. This creates products in local markets, but with a global distribution from a centralised unit at Clean Motion in Sweden. We are basically selling a 'mobility factory' in a box.

W*: Currently the Zbee is sold to various customers in India, South Africa, Norway and Sweden. Do you have plans to expand and manufacture locally?
CS: Yes, we have customers around the world and interest from over 35 countries, including European countries. The products are global in their design, and the manufacturing process is the same all over the world. Today we produce our pods in our factory in Sweden, but we have plans to set-up our first micro factory in India – we just need to find the right local partner.
W*: What do you see as differentiating your concept from other city mobility ideas?

CS: It is one of the most sustainable mobility alternatives with a roof over your head and without the need to pedal your way through the city. The pod has extremely good energy consumption of only 0.04 kWh/km, which limits its need for resource-demanding batteries. It is also a differentiator in the raw, naked feel of its appearance. It really stands out in noise. The Zbee has gone through real crash tests, has a small footprint, is lightweight and runs on slow speeds so it is very safe for the occupants and pedestrians.


W*: You developed the original Zbee in 2013. How far has the concept evolved since given the technological advances and the more progressive consumer mind-set?

CS: When we first presented the vehicle, the e-mobility market was immature and a lot of the big players hadn't even launched their electric cars yet. The Zbee has gone from being a product aimed at direct consumers into addressing fleets. Sustainable transport cannot be solved with privately owned vehicles; we need to utilise our resources much better, and use vehicles more efficiently.
W*: What is the next step with the Zbee and will this involve self-driving pods?


CS: Unlike car companies, we don't have conventional model years on Zbee – the pods are continually upgraded with digital services and software updates. Clean Motion is testing autonomous drive and how this will impact different business models. This includes a free-floating semi-autonomous shared vehicle fleet, where customers rent a pod for a private trip or work. The electricity to power the pods will come directly from integrated solar panels on the roof – we've estimations on a 30km range of eight hour charging. The pods then reposition themselves in autonomous mode to be available for people to use on the go as a pooling service. To park, they would be placed on the street and autonomously re-arranged parallel to one another.

The fleet operator can simply log on to our system and use the pods as taxis or parcel delivery services. This way you get maximum utilisation and multiple revenue streams with no need for handling repositioning or charging – this we see as the Holy Grail for sustainable urban mobility. But there will be a lot of small improvements to make first and a lot of research and prototyping. The first step is to shift to battery swap in order to have continuous uptime for operators.
INFORMATION
cleanmotion.se (opens in new tab)