Wallpaper* test drives the VW XL1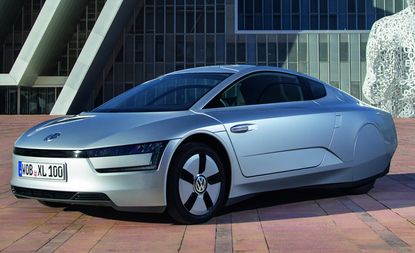 (Image credit: Press)
No-one can accuse the VW XL1 of being 'just another car'. Looking like a tiny road-going spaceship, the aerodynamically-optimised plug-in hybrid eco supercar offers a world-beating 313mpg, is production-ready and goes on sale later this year for circa £50,000. Really.

The XL1 production car may look supersonic - its top speed is actually 100mph - but it was far from a high-speed development. The car's roots can be traced back to the 2002 tandem-seater, '1-litre' prototype, because it could travel 100km on only one litre of fuel (equating to 285mpg). 11 years and numerous concepts later, the bigger XL1 - a staggered two-seater where the driver sits slightly forward of the passenger - was unveiled in showroom-ready form at the 2013 Geneva motorshow.

When driven around London, its sleek shape attracted attention everywhere it went from young to old, and male to female. As its exterior designer Peter Wouda points out: 'It causes extreme emotional reactions like you'd get with a Ferrari or a Lamborghini but without the jealousy. We wanted a self-confident design but without the aggression.' Some design observers might even consider it 'retro-futuristic', given the Star Wars-esque white gloss bodywork, plus its covered rear wheels and sloping roof akin to a 1950s Citroen DS (or indeed a 1970s Citroen SM).

Either way, Wouda says all the curves and creases on the exterior have function, and help the car to an incredibly low 0.189 drag co-efficient (the best current production model is the Mercedes CLA at 0.23Cd). Helping that aerodynamic cause are rear-facing cameras integrated into the doors that relay images back to two interior door video screens to allow the driver to check rearward vision and replace big conventional wing mirrors (and their associated drag). The idea has been showcased on concept cars for years, but crucially, these cameras pass the necessary road-going legislation and should set a precedent for more streamlined, mirror-less cars in the future.

Another part of the XL1's pioneering design is its use of lightweight materials. The chassis, body panels and bucket seats are all made with carbon fibre reinforced plastic (CFRP), wheels are magnesium and the manual-opening side windows are polycarbonate. The result is a 795kg kerb weight, less than the current Lotus Elise. Despite this weight-watching, the cabin is far from stripped-out, and has air-conditioning and quality finishing.

Powering the VW Polo-sized car is a rear-mounted 0.8-litre diesel-engine that combines with an electric motor to offer 75hp, 313mpg, 21g/km CO2 and a 31-mile electric-only range. When that's spent, or when accelerating above 25mph, the diesel engine kicks in to help, in a rather raucous way Wouda likens to 'an angry dog' - normal noise-cancelling insulation has been left off to keep weight down.

Driving impressions limited to the city and mainly in EV mode are overwhelmingly positive. Steering has no power assistance but given the car's light wheels and overall size, it's not hard to manoeuvre, the bucket seats are firm and surprisingly comfortable and the 120-litre boot space will take a few bags. The rear-view screens in the cabin doors help identify bicycles and buses equally well, but reversing into poorly-lit parking spaces is tricky, as the camera images can be too dark to be clear.

The functionality of the traffic-stopping gull-wing doors, however, is good. Hinged well into the ceiling, they create a bigger and higher aperture where conventional side-hinged doors on a car as low as the XL1 would cause real problems. The staggered two-seat layout is nicely convivial as well, allowing six-footers to sit in comfort and chat easily.

Best of all, as mentioned at the start, this technology-laden masterpiece is due on sale in late 2013 for a relatively reasonable £50,000 (the price is not yet fixed and VW will lose money on all of them). 250 are initially due to be built, although VW says it could build up to 5000 and while a few hundred (or even thousand) eco supercars won't change the world, the project's importance lies elsewhere. VW says its myriad ground-breaking technologies really can be filtered down to cars as commonplace and affordable as the Golf in time - and if they do - the XL1 just might go down in history as the small eco car that started something big.
Guy Bird is a London-based writer, editor and consultant specialising in cars and car design, but also covers aviation, architecture, street art, sneakers and music. His journalistic experience spans more than 25 years in the UK and global industry. See more at www.guybird.com