Wallpaper* test drives the Mercedes-Benz CLA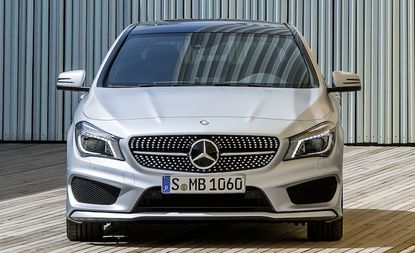 (Image credit: Mercedes-Benz)
In its ongoing bid to woo the youth vote, Mercedes has pressed the style button hard with the CLA. Great proportions, sleek lines and an upmarket but easy to use interior should all appeal to younger global customers.

As a compact four-door coupé, it has no direct rivals right now. It is 174mm longer than the Audi A3 saloon - and offers more room as a result - and is a fraction shorter than the Mercedes C-Class Coupé, while taller and wider. Its package is more practical than most two-door coupés but more distinctive than conventional four-door saloons.

Unusually for a sport-focused car, Mercedes has made a real effort to boost economy and reduce emissions through a suite of aerodynamic details that make it the most streamlined mainstream car on sale with a 0.23 Cd drag coefficient (the eco-focused Toyota Prius offers 0.25 Cd by comparison).

Finally, the car drives well. Choose initially from two solid petrol units - a 122hp 180 or 211hp 250 (with an all-wheel drive 4Matic option for huge grip) - or two diesels, including a 170hp 220 CDI diesel for a good combination of power, control and frugality (62.8mpg and 117g/km of CO2). A range-topping 360hp CLA 45 AMG will follow later in 2013 with its fetchingly original diamond-pin grille and ultra-rapid 4.6-second 0 to 62mph time. Of the Comfort and Sport suspension options, be sure to choose Comfort unless the roads you travel on are all super-smooth.

Front seats are suitable for all sizes, although rear-seat passengers will need to be sub-six feet to feel comfortable for longer journeys. But despite being related to the new VW Golf-sized A-Class, the CLA is actually quite long, and has a spacious 470-litre boot that will swallow a few suitcases.

One note of warning though: the range may span £24,355-£31,555 for now, but by the time a few options are ticked, the final fee could easily spiral north of £35,000.
Guy Bird is a London-based writer, editor and consultant specialising in cars and car design, but also covers aviation, architecture, street art, sneakers and music. His journalistic experience spans more than 25 years in the UK and global industry. See more at www.guybird.com