Wallpaper* test drives the 2013 Lexus LS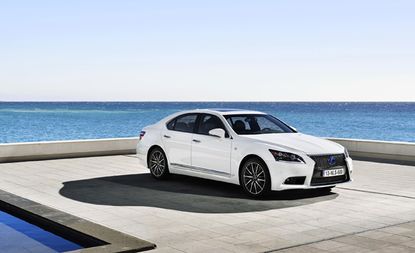 (Image credit: Press)
What do the unlikely trio of David Hockney, Jay-Z and Arsene Wenger have in common? They all drive a Lexus LS. Due to disparate diary commitments Wallpaper* was unable to get them all on a conference call to explain, but we have a hunch that the flagship saloon's historically stealthy leftfield luxury image, mixed with high quality specification, bullet-proof reliability, whisper-quiet cabin refinement and - in at least one of their cases - a sprinkling of hybrid eco dust, could have something to do with their respective choices.

Now there's a new LS to whet their appetites, and indeed other leftfield luxe types. The most obvious visual change is the adoption of Lexus's signature spindle-shaped grille (already on the new GS and RX) but it's far from the only one. Lexus counted 3000 changes in total, including on the inside, cool new lighting that illuminates various parts of the cabin in sequence to guide owners to their seats and on the outside, subtle aerodynamic additions - note the small black fins next to the wing mirrors and extruded from the rear light clusters - that improve airflow, and therefore vehicle stability, at higher speeds.

In the UK, a more affordable V8 petrol-only LS460 model has been reintroduced for those who missed the option when the previous version went hybrid only. The rear-wheel drive LS 460 Luxury edition gives the range a £71,995 starting price rising to £99,495 for the long wheelbase all-wheel drive hybrid LS 600h L Premier. In between - and for the first time - the LS also gets the dynamic £74,495 F Sport.

F Sport trim brings a zig zag mesh grille, dark 19-inch alloys, Brembo brakes and a lower centre of gravity courtesy of 10mm lower body. At higher speeds you'll notice the better body control and sharper steering due to the F Sport's active stabiliser system too, although all LS models now come with five driving modes - eco, comfort, normal, sport and sport + - with standard Adaptable Variable Suspension.

Inside, black leather seats with contrast stitching and brushed metal accents on the dash and doors look good, but be sure to carefully adjust the headrest height; the F Sport logos protruding from them are so heavily embossed they grate on short-haired passengers' skulls! That gripe aside, the F Sport version is the most modern and best-suited LS interior to date. Good thing too, as many of the other models still wallow in the lazy design clichés of a 1990s VIP jet, with swathes of drab beige leather and lacquered wood highlighting some jarringly integrated switchgear.

Unfortunately all LS models suffer from Lexus's less-than-slick central screen, with off-the-pace interface graphics and computer-style mouse controller. The mouse moves erratically so that it's hard to hover over the on-screen button you want to click and activate - it's easy to overshoot - and when you finally do locate the right icon, the electronic 'diddly-bip' confirmation conjures in my head the noise heavily pixellated 1980s video games made when you'd just gained an extra man or the high score - not a good association for a non-ironic 21st century infotainment system.

Still, elsewhere the technology is superb, especially the 19-speaker Mark Levinson stereo that can stream crystal clear music from your iPod with ease. Opt for the hybrid - for better 32.8mpg and 199g/km CO2 emissions figures - and in the UK you'll also get as standard a longer wheelbase for genuinely stretch-out rear legroom, massaging seats, individual body temperature-monitoring sensors that automatically adjust the air-conditioning for each passenger, electric recline seats with ottoman sections and a Blu-Ray player for the first time.

On sale in January, the regular LS 460 F Sport is the one to take if you want to drive, the LS600h L hybrid better if you prefer to relax in the back. But despite the improvements, we'd choose a top-end BMW 7 Series for driving entertainment, an Audi A8 with all the trimmings for a superior interior design (both are now offering hybrid versions as well) or a Jaguar XJ if you a prefer a mixture of the two. Or indeed wait for the much anticipated all-new Mercedes S-Class in 2013. The heavily facelifted LS - despite some great features - looks set to remain a niche stealth option, for the Hockneys, Zs and Wengers of this world.
Guy Bird is a London-based writer, editor and consultant specialising in cars and car design, but also covers aviation, architecture, street art, sneakers and music. His journalistic experience spans more than 25 years in the UK and global industry. See more at www.guybird.com