Vitsœ acquires private collection of Dieter Rams' designs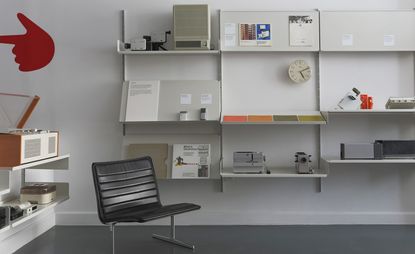 (Image credit: press)
Connecticut-born graphic designer Tom Strong has been a lifelong fan of the work of Dieter Rams. Aged 77, Strong has spent over 50 years amassing a museum-worthy collection of the German designer's work – specifically Rams' utilitarian pieces for Braun, where he served as head of design from 1961 to 1995.

'I began to collect these items because I enjoyed using them,' says Strong, who was first seduced by the industrial design of Braun products in the 1960s while stationed with the US Army in Germany. 'I was fascinated by the progression in design that I was seeing. The products were only evolved to improve their function, not just to change their style.'

Strong's 250-piece collection includes everything from the familiar 1976 'KF21' coffee maker to the rare 1962 'T1000' radio – a piece that Strong tracked down in Frankfurt Germany. 'I carried it on my lap all the way back to the USA on the flight,' he remembers. 'There was no way I would risk putting something so precious in my hold luggage!'

Now, for the first time, the products in Strong's collection were the stars of their own show, with an exhibition at the New York store of British furniture brand Vitsœ. Arranged across Rams' '606 Universal Shelving System' for Vitsœ, around 85 pieces from Strong's collection were on display.
Vitsœ has been making Rams' furniture for more than 50 years, but this particular showcase was born out of a chance encounter. Having spent 30 years admiring Rams' '620 Chair Programme', Strong had finally decided to take the plunge and purchase one at the Vitsœ store.

It was here, during a conversation about the brand's mission to educate the next generation of design students, that Strong decided to donate his entire collection to the manufacturer. 'You can't take it with you,' he says, reflecting on the collection's legacy, 'so you should at least put it into the safe hands of someone that will make good use of it.'

'There's this theory that if something is useful, it can't be art, but that's not true,' he continues. 'To me, the products designed by Rams were just as important as a Henry Moore sculpture – except people could afford them, touch them and use them.'

Coinciding with Rams' 85th birthday on 20 May, the showcase marked the collection's last days in the US before being shipped to its new permanent home in the UK, where it will be kept in the archive at Vitsœ's new Leamington Spa HQ. 'Donating the collection to Vitsœ was just a happy accident,' says Strong, 'but I couldn't imagine a better home for it.'
INFORMATION
For more information, visit the Vitsœ website
Receive our daily digest of inspiration, escapism and design stories from around the world direct to your inbox