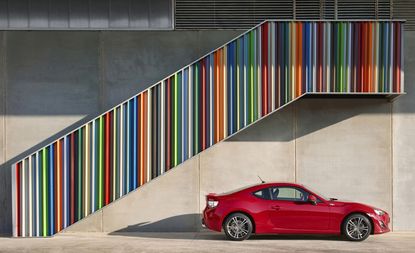 (Image credit: press)
In recent years Toyota (opens in new tab) has experienced some less than favourable media coverage. But, with the accelerator pedal dramas of 2010 well behind it, the Japanese motoring titan has once again re-established itself as the world's leading car manufacturer. Aware of competitors keen to usurp market authority, Toyota's R+D wizards have long been burning the midnight oil to bring something refreshingly fun to the industry's attention.

Back in 2009, the company showed the FT-86 concept, a front-engined rear-wheel drive compact four-seater sports coupé that promised to fulfil our basest motoring desires. It's taken a few years for a production car to emerge, but those early expectations appear to have been justified. The renamed Toyota GT-86, recently experienced by Wallpaper* on the mountain switchbacks above Barcelona was, by-and-large, as entertaining as the hype.

Contorting yourself into the driver's seat, you're reminded of 911s from years gone by, with just enough room to get comfortable without ever forgetting you're in a low-slung sports car. On the move, everything comes together. Despite its size, the normally aspirated 2-litre boxer engine works tirelessly, producing best results when pushed to its higher rev range. In the corners, a combination of low ride height, firm suspension, even weight distribution and quality rubber gives you abundant levels of grip.

Toyota's engineers - all keen motorsports enthusiasts - decided to exploit the chassis potential by fitting (as standard) the same narrow tyre found on the hybrid Prius (opens in new tab), a gutsy decision given its sporting brief and surprisingly one that works for all intents and purposes. So convinced is the company of the car's potential that it offered it up on closed circuit conditions, allowing W* to experience the GT-86 in is its natural environment (where, incidentally, it remained on its Prius road tyres).

On the track, the sports coupé really made sense. With its light, nimble handling more direct than on the road, and one of the least obtrusive traction control systems in memory, the Toyota GT-86 could be driven as intended in these surroundings, and how very enjoyable the experience played out to be. This is a sports car for the masses, a machine in which enjoyment is paramount. From the earliest design sketches to the first models rolling out of the production hall, every measure has been focused on driver pleasure.

For a company churning huge numbers of day-to-day saloons and hatchbacks, Toyota has desperately needed to inject excitement back into a garden-variety portfolio and, with a driver oriented offering such as this, it has achieved just that.

Despite early industry acceptance, Toyota can't bathe in the 86's success as entirely its own doing. To develop and produce the car, Toyota formed an alliance with fellow Japanese manufacturers, Subaru (opens in new tab), who played an instrumental role in the engineering, while also imparting their expertise in connection to the boxer engine, the power train at the heart of the coupé. On the flipside, Subaru's own version of the car, the BRZ, is able to benefit from Toyota's initial product planning and design phases.

As it stands, Toyota has managed to bring the GT-86 to market slightly ahead of Subaru's BRZ, which is available later this summer.