Introducing the only wine glass you'll ever need, designed by the world's best critic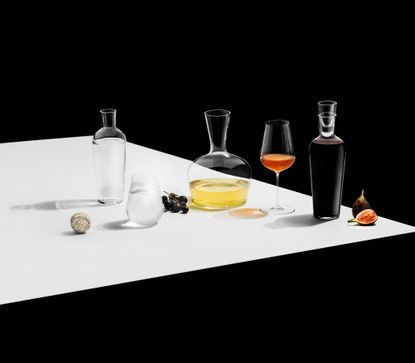 (Image credit: Jancis Robinson, Richard Brendon)
Designer wine glasses are ten a-penny: stemless ones in too-cool bars, bucket-shaped ones for deep reds, too-small-to-fit-your-nose-in ones for light whites. For any novice, (and for many of us more experienced sippers) pairing wine to glass shape has become an unnavigable exercise. A reductive new collection from celebrated product designer Richard Brendon and wine critic Jancis Robinson makes pairing wine to its ideal glass shape as simple as possible, with a minimalist mantra any sensible souse could get behind: one size fits all.

'Richard was probably rather shocked when I said firmly that I wanted to design just one perfect wine glass, but he took it on the chin, I'm delighted to say,' Robinson explains. 'As someone who wants to make enjoying wine as straightforward and pleasurable as possible, I was insistent on a single glass shape and size.'

The aptly named '1 Collection' is a testament to Robinson's career, which has been devoted to demystifying the heady and vastly complex wine world. In 1984, she was the first person outside of the trade to pass the rigorous Master of Wine exams, and, for her troubles, she was awarded an OBE for services to wine in 2003. Decanter Magazine argues that she's the best in the business.

There's simply no room for countless different types of wine glass in our space-starved, clutter-filled lives, Robinson argues. Nor is there any point. 'On my travels around the world of wine, in recent years it has become really noticeable that producers of champagne and other sparkling wines, as well as those making sherry, port and other fortified wines, want their precious liquids to be appreciated in the same way as table wines,' she explains. So designing one, definitive option 'just seems so obvious and sensible.'
Brendon was the man for the job. The London-based designer started working in glass blowing in Bohemia in 2015, and, inspired by the skill and precision of the craft, now designs highly regarded collections of glassware that challenge the region's traditional aesthetic, through contemporary shapes and future-proofed functionality.

As such, the mouth-blown '1 Glass', though gossamer-thin, is dishwasher safe, thanks to its sturdier-than-average stem. The generous tulip bowl is also impeccably bright, and lead-free for an untainted tasting experience. 'Our glass producer initially struggled to get the weight of the glass as light as we required because they had never produced a collection this fine before,' Brendon explains. 'That our glassblowers persevered, and very quickly learned how to make the pieces perfectly, is a real testament to their phenomenal skill and dedication to the final vision we all shared.'

In keeping with the 'one glass fits all' theme, there is no distinction between wine colour throughout the collection, which also boasts a water glass and two carafes. 'I love white wine as much as red, and have never understood why white wine glasses are routinely smaller,' Robinson adds. 'White wines can be just as complex, and just as deserving of what you might call aroma enhancement as reds.' Instead, the carafes are split by vintage: younger wines are intended for the balloon-bottomed carafe – large enough to fit a magnum – allowing more sprightly wines to mellow. The slimmer carafe is specifically designed for mature vintages, allowing sediment to siphon off, without exposing the hard-won wine to too much harmful oxygen.

Though the collection won't have hardened glass collectors chucking out their variously sized stems, it is a refreshing and economical approach to wine that will undoubtedly appeal to those taking their first steps on the way of the grape. It will also attract us experienced tasters, tempted by the simplicity, functionality and clutter-free contemporary line of a modern Brendon classic. Bottoms up.
INFORMATION
Available exclusively at Harrods from 1 July. For more information, visit the Richard Brendon website (opens in new tab)
Elly Parsons is the Digital Editor of Wallpaper*, where she oversees Wallpaper.com and its social platforms. She has been with the brand since 2015 in various roles, spending time as digital writer – specialising in art, technology and contemporary culture – and as deputy digital editor. She was shortlisted for a PPA Award in 2017, has written extensively for many publications, and has contributed to three books. She is a guest lecturer in digital journalism at Goldsmiths University, London, where she also holds a masters degree in creative writing. Now, her main areas of expertise include content strategy, audience engagement, and social media.