The reboot: welcome to Wallpaper's 24-hour wellness plan
Sip a super tonic, de-stress your desk and put yourself on ice. Photography: Sabrina Bongiovanni. Beauty & Lifestyle Director: Emma Moore. Fashion: Lune Kuipers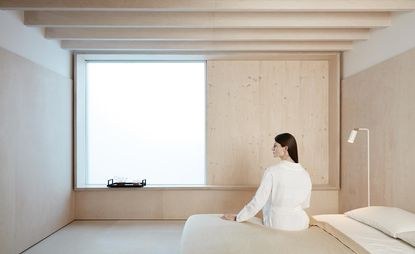 (Image credit: Sabrina Bongiovanni, Emma Moore, Lune Kuipers)
07:00: Pick an elixir
Whether it's the cuppa to ease you into the day, the mid-morning refresher, or the afternoon pick-me-up, drinks are being required to do a whole lot more than satisfy a thirst. Today's quenchers also need to bring nourishing vitamins and minerals to the equation, superior hydrating powers, healthy bacteria, healing enzymes or detoxifying elements. Increasingly, the drinks industry is looking East for new elixirs – the traditional Javan tonic jamu and the Japanese tea mugicha are having a moment – while inventive drinks such as water kefir, from Mexico, and sap water, from north-central Europe, are shaking up spa menus. Scroll down for our very latest hydration destinations.
From our tonic trolley (clockwise from left)

1. Pickle juice
This vinegary brine infused with veg juices and packed with potassium, sodium and magnesium is considered a tonic for muscle cramps, stomach troubles, hangovers and heartburn.

2. Carbon lemonade
Activated charcoal, combined with lemon and a sweetener, makes an exotically black-coloured lemonade. For detox, hangovers and bloating.

3. Sap water
The super-hydrator du jour. Typically tapped from birch trees, it boasts hydrating electrolytes, potassium and phytonutrients, plus saponins, to combat cholesterol, eczema and much more.

4. Pea milk
The latest dairy alternative, the thick creamy liquor comes in a variety of flavours alongside plain. High in proteins, omega 3 and calcium.

5. Mugicha
This barley tea tastes something like liquid toast, but with vitamins and minerals to fight tooth decay, diabetes, cholesterol, even cancer, it's worth it.

6. Jamu
Anti-cancerous fresh turmeric harnessed in a tasty, daily tonic, also containing, variously, tamarind, ginger, galangal, lemongrass, sulfur cinnamon, pandan leaves and honey to sweeten.

7. Water kefir
Made from fermented grains, and with a soda-like fizz, this potion is said to strengthen the immune system and fight bad bacteria.
08:00: Have an ice day

New, cold or 'cryo' therapies are piquing interest for their rejuvenating, feel-good beauty benefits. The shiversome therapy was first used as a full body treatment for pain management and then as a post-sport recovery aid. In beauty, it is used in a targeted way, for example, to break down pockets of fat on the butt, tum, chin and thigh in a treatment called Coolsculpting, and as an alternative to Botox, using liquid nitrogen shots.

One of the latest therapies is 111Cryo, which uses a new nitrogen-free freezing technology. The cold can be controlled, so is said to be more comfortable, especially for facial treatments. Like a light, cold massage, icy air is pumped onto the skin through a nozzle. Blood capillaries constrict, then, once normal temperature returns, blood enriched with nutrients floods to the surface. Skin appears more refined as pores and puffiness are reduced, while collagen production is stimulated.

Not all cryotherapy is high-tech. The new Jalue Ice Therapy cone, for use at home, is a push-up, cone-shaped ice cube, made with herb-infused mineral water, that is smoothed over skin to de-puff, tone and bring a glow. Then there is a new low-tech cryotherapy facial by skincare brand Anne Sémonin, which first promoted ice cubes for the skin a decade ago.
09:00: Jump around

Designed in sustainable, natural materials – ash, marble and hemp – this home workout kit prototype lifts the weight of environmental concern from our shoulders and looks pretty good too. The concept of design student Ali Safa, currently doing his MA at Lund University, Sweden, it is a response to the plethora of plastic and rubber workout products. Comprising an adjustable dumbbell, a core wheel, two push-up barrels and a jump rope, the kit, named 'Femton' is intended to be aesthetically pleasing enough to leave out in your home, 'to keep you motivated', says Safa. He is investigating production options and hopes to be able to accept pre-orders soon.
10:00: Screen time

The effects of the electromagnetic smog emitted by digital devices have rather crept up on us. Reaching deeper into the skin and eyes than UV rays, high energy visible (HEV) light, or blue light as it's also known, takes its toll on skin, eyes and sleep patterns. Happily, products to help us are now emerging. The Flight Mode series by Design Academy Eindhoven graduate Theresa Bastek of Plastique includes a visualiser (pictured centre top) that lights up to warn of a rise in electromagnetic radiation, carbon screens (pictured far left) to absorb it, and a blanket and pyjamas made from shielding yarns.

Forward-thinking skincare brands such as Make and Dr Sebagh produce moisturisers that filter HEV light (and others to counter its effects) while eyewear labels such as See Concept and Lindberg offer blue light-filtering lenses, to shield us in style.

Deskbound workout

To combat the effects on the body of sitting at a screen all day, Design Academy Eindhoven graduate Charlotte Therre has come up with 'Body at Work', six exercise tools designed to activate and strengthen muscles without interrupting productivity. 'I looked at moments where workers could take care of themselves to stay healthy in the long term,' she says. The tools, made in Therre's South Korean studio, resemble pieces of jewellery or desk ornaments and include a leather collar set (pictured) with brass weights that stimulate blood flow and regulate body temperature, and a pair of metal cylinders that, when rolled underfoot, automatically improve posture.
13:00: Eat to de-stress

The healing potential of herbs and spices is harnessed by various health systems, from Ayurveda to traditional Chinese medicine. Now certain 'super herbs', dubbed adaptogens, are considered a naturopathic system in themselves. With the power to help the body adapt to mental and physical stress and moderate it, these super herbs include moringa, ashwagandha, maca, ginseng, holy basil, licorice root, cordyceps mushrooms, rhodiola, rosemary and reishi. Used to battle stress caused by everything from temperature extremes to time pressure, they bring stamina and mental clarity. They are most commonly being swallowed as supplements, used to lace smoothies or to boost skincare. But wouldn't it be good if they just enriched our every day meals? We make a lunch designed to lighten the load.
20:00: Press pause

When it comes to a mind and body overhaul, little can beat a trip to a spa in a Keralan backwater or a retreat in a Himalayan hideaway. But there are things we can appropriate from the mind-purging and corporal-cleansing traditions of the East to introduce into our own bathrooms. We've put together a wellness kit that will bring a bit of Ayurvedic healing to your home, including the essential detox tool, a copper tongue scraper; a Himalayan Salt Soak from new British brand Isla Apothecary; Dafna's skincare from a Madrid-based follower of Ayurvedic philosophy; a tension-relieving gold facial massage tool; a cleansing tea from the Ministry of Herbs; and an egg timer to measure meditation sessions. Just add time to pause.

As originally featured in the January 2017 issue of Wallpaper* (W*214). Shot on location at Bavaria Road, North London. House designed by West Architecture. With thanks to the owner, Morgwn Rimel. See more of the architecture here
Melina Keays is the entertaining director of Wallpaper*. She has been part of the brand since the magazine's launch in 1996, and is responsible for entertaining content across the print and digital platforms, and for Wallpaper's creative agency Bespoke. A native Londoner, Melina takes inspiration from the whole spectrum of art and design – including film, literature, and fashion. Her work for the brand involves curating content, writing, and creative direction – conceiving luxury interior landscapes with a focus on food, drinks, and entertaining in all its forms