Eau zone: the makers of niche perfumes explain why uncommon scents are in the ascendant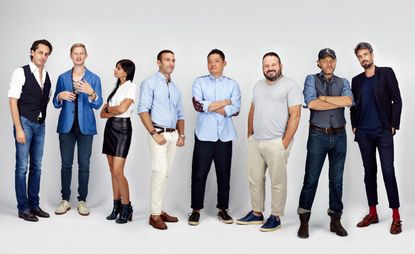 (Image credit: Rachel Chandler, Sophie Tajan, Benjamin Schmuck)
Perfume has sometimes been compared to wine, and the analogy certainly comes in handy. For starters, they're both alcohol-based and sold in bottles, and oenophiles talk a lot about the nose and scent of wine. OK, so you might not want to dab a premier cru Bordeaux behind your ears or quaff Chanel No.5, but there are other intriguing parallels. Back in the 1970s, the wine market was dominated by just a few big, heavily advertised brands and few people knew much about the subject. These days, by contrast, we all know our regions and our grapes, and there's a wealth of choice on offer, from producers large and small.

Compare that to the perfume market and it soon becomes apparent that, in many ways, the latter lags behind, though it's much bigger and more profitable. Just like wine in the 1970s, a small number of major perfume brands still overshadow all the rest, accounting for most of the advertising and sales, and the majority of consumers remain in their thrall, never having had the chance to learn how to smell for themselves. The result, as independent perfumer Roja Dove says, is that 'most people don't really smell perfumes. They smell marketing.'

The first real challenge to the corporate behemoths' dominance came in 1992, when Serge Lutens, with the financial backing of Shiseido, opened his perfumery, Les Salons du Palais Royal, in Paris. With its exclusive location and dreamlike interior, it soon became the place to visit for perfume lovers from all over the world – and it launched the model of what would soon be described as niche perfumery.

Lutens' pioneering lead was followed by Frédéric Malle, nephew of French film director Louis Malle, whose Editions de Parfums Frédéric Malle boutique, designed by Andrée Putman, opened on the rue de Grenelle in 2000. Malle's stroke of genius was to commission professional perfumers to create fragrances under their own name, rather than making them anonymously for one of the major fashion and perfume brands, as had been the case up until then. Pioneers like Lutens and Malle opened the way for a whole raft of smaller, independent niche perfumers, some of whom have gone on to establish themselves as in-the-know brands in their own right.

This explosion in niche perfumery has been driven by many things. Ben Gorham, who founded Byredo in 2006, remembers: 'When I was younger, people bought a specific fragrance to fit in or feel included. Today I feel it's quite the opposite. People use fragrance to express their unique personalities, moods and  individuality.' Malle agrees. Niche perfumes, he says, 'are more specific and more personal – each person individually can find something which reflects their true personality, rather than the one size-fits-all smells that we find in self-service perfumeries'.


A quest for individuality is one thing, but economics is another. One industry insider claims the reason that niche perfume brands have been so successful is down to one thing. 'Money,' they say. 'The big players focus more on cost than creativity, with the result that some of their perfumes can be cheap and nasty. Small brands don't have their overheads, and the money they save means they can spend more on the actual perfumes – plus they don't have focus groups breathing down their necks, and that gives them much more creative freedom.'

Kilian Hennessy, who founded By Kilian in 2007, makes a similar point. 'It's my belief,' he says, 'that niche fragrances have been so successful because they were responding to a void left vacant by the "prestige" fragrance industry. Over the past ten years I have witnessed the dramatic price decrease of such scents, to the point where there was no real difference between a so-called prestige fragrance and a more widely distributed one.' Le Labo co-founder Fabrice Penot has a more poetic take on the subject. 'In every perfume we create,' he says, 'we leave a part of ourselves in the bottle, and I think people can feel that. There is a mystical element, which the smart, reasonable business people who are in charge of traditional brands can't really grasp, but I think the resulting soul of the perfume is our competitive advantage.'

Yet the picture isn't as simple as it might seem. Once the smarter mainstream perfume companies cottoned on to the fact that they were losing a lot of their best customers to small, independent brands, they started launching niche ranges of their own. Chanel rebranded its boutique-only perfumes in 2007 as Les Exclusifs de Chanel, with other brands such as Armani and Dior extending their private label ranges in its wake. Less widely distributed and more expensive than their middle-market scents, they were aimed squarely at those consumers who wouldn't be smelled dead wearing Cool Water or Sauvage.

Other big players have taken a different approach. Rather than attempting to emulate niche brands, they've simply bought them. Estée Lauder has snapped up Frédéric Malle, Le Labo and By Kilian, while Spanish perfume giant Puig has added Penhaligon's and L'Artisan Parfumeur to its already huge stable. This blurring of boundaries between niche and mainstream, along with the ever-larger numbers of niche perfumeries, is » leading some people to wonder whether the terms are becoming meaningless.

Lyn Harris, the London-based perfumer who studied in Grasse for five years before founding Miller Harris in 2000, now heads up Perfumer H. She thinks niche brands have enabled consumers 'to become more educated about scents and realise that they shouldn't just buy a fragrance because a friend told them to or because the model is cool'.

But she also worries that the sector has lost its way. 'I feel the true meaning of niche has disappeared,' she says. 'That, for me, is authenticity, creativity, showing craft, doing something unique and breaking away from trends. Today, I see none of that. I see groups of people – some from the commercial world – seeing an opportunity to make money and doing a me-too brand of something that already exists in this arena. Niche should be about being different, about standing out from the crowd – and that seems to have gone.'

It's a sobering thought, but Marc Chaya, who co-founded (the still independent) Maison Francis Kurkdjian in 2008, is more optimistic about the future of niche fragrance. 'I think the niche sector is now consolidating and will continue to grow rapidly, but barriers to entry are increasing and making it more and more difficult for new brands to break into the market. It will take a lot of talent, creativity – and more means than in the past – which is ultimately a good thing. Only the best brands will survive and thrive.' We'd like to think he's right.

As originally featured in the October 2016 issue of Wallpaper* (W*211)
Information
Photography: Rachel Chandler, Sophie Tajan, Benjamin Schmuck