Studio Frith charts a history of female creativity at the 1930s London home of Ernő Goldfinger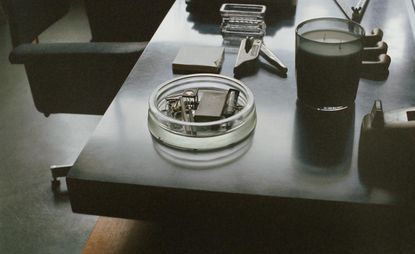 (Image credit: Lyn Harris)
Designer and Studio Frith founder Frith Kerr has partnered with the National Trust on the exhibition 'Ahead of the Curve', held in the folds of 2 Willow Road, the 1930s modernist home in Hampstead designed by Ernö Goldfinger. Created as part of the Trust's timely 'Women and Power' programme, the show sees six prominent female designers (spanning disciplines from food to furniture, fragrance to fashion) respond to the works of six female artists from Goldfinger's collection.

Goldfinger – the Hungarian-born architect and furniture designer – filled his Hampstead home with treasures, including a catalogue of work by prominent female artists, like Helen Phillips, Prunella Clough and Lee Miller. Now, these 20th-century trailblazers have been joined by their 21st-century counterparts – Lyn Harris, Kitty Travers, Nina Chakrabarti, Roksanda Ilincic, Isle Crawford, Gitta Gschwendtner, and Frith Kerr herself.

Kerr decided who was to be paired with whom. 'It was a bit like seating people at a dinner – who has similar interests, who could make a connection, who could be funny,' she explains. Unconventional perfumer Lyn Harris was paired with British painter Prunella Clough, whose painting Industrial View (date unknown) hangs in Goldfinger's office. Inspired by the space, Harris selected her Smoke candle (pictured top) to delicately scent the studio. 'I love the synergy of Prunella's painting evoking a mood of a smoke-filled sky and the space it sits in being filled with Goldfinger's cigar smoke,' Harris writes in the accompanying exhibition panel.
Kerr continued her thoughtful art-world match-making with illustrator Nina Chakrabarti, whom she paired with the exuberant Surrealist artist Eileen Agar. In response to Agar's fearless life, Chakrabarti chose a vibrantly illustrated cover of the film soundtrack, Orfeo Negro. 'I know Chakrabarti has an incredible knowledge and breadth of musical tastes (she can shake a party!),' Kerr says of the match. 'This, with the lyricism in her drawing, would make a suitably surreal, playful conversation.'

Similarly, Studioisle founder Isle Crawford and her partner in time, Op Art exponent Bridget Riley, have an unforced connection. 'I am fascinated how Riley talks about her work as ultimately a social act, completed by the viewer,' writes Crawford. 'Our approach is similar. We are interested in the relationship between design and the user.' For the exhibition, Crawford brought a bench 'designed to bring people together', in salute to their shared methodology.
Such time-travelling conversations unite each formally disparate work in the exhibition, which also features a dress and accessories by fashion designer Roksanda Ilincic, who responds to Ursula Goldfinger's 1938 painting Ears (pictured above); and a cake by ice cream confectioner Kitty Travers, in response to the book, Lee Miller: A Life with Food Friends & Recipes, by Ami Bouhassane, 2017. The show weaves 'conversations between time, space, artists and friends,' Kerr explains. 'Art makes these conversations live forever.'

Female voices are being heard more profoundly than ever in the rolling wake of the #MeToo movement, and in the centenary celebrations of the Suffragettes; reflected in the flurry of female-only exhibitions that have gripped London galleries and institutions, particularly over International Women's Day earlier this year. 'We are in a moment when the old power structures are being challenged,' Kerr adds. 'And yes, we as designers have been talking and working with each other for sometime, as did the artists celebrated in the Goldfingers collection.'
This exhibition serves to celebrate the contemporary women designers and artists who are shifting the course of today's creative industries, by doffing their caps to yesterday's most inspiring female talents.
INFORMATION
'Ahead of the Curve' runs until 2 November 2018 at 2 Willow Road. For more information, visit the Studio Frith website
ADDRESS
2 Willow Road
Hampstead
London NW3
Elly Parsons is the Digital Editor of Wallpaper*, where she oversees Wallpaper.com and its social platforms. She has been with the brand since 2015 in various roles, spending time as digital writer – specialising in art, technology and contemporary culture – and as deputy digital editor. She was shortlisted for a PPA Award in 2017, has written extensively for many publications, and has contributed to three books. She is a guest lecturer in digital journalism at Goldsmiths University, London, where she also holds a masters degree in creative writing. Now, her main areas of expertise include content strategy, audience engagement, and social media.