Ferronnier Steaven Richard reveals architectural metalwork for Rémy Martin
Two French houses – a contemporary metalwork atelier and a crafter of historic Cognac – meld in a timeless (and tasty) collaboration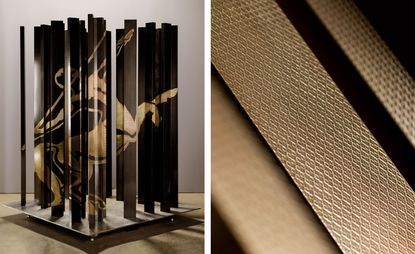 (Image credit: Steaven Richard)
Steaven Richard is a ferronnier – what the British call a blacksmith – by trade, but his skill and innovation extends beyond horseshoes and fashioning blades. He describes himself as a 'creative craftsman' and his studio in France is a modern, design-focussed set-up that specialises in interior doors, floors and staircases. He combines traditional ferronnier crafts with cutting edge technology – 3D computer design and 3D printing.

Now, Richard has partnered with the fine Cognac Maison to create a new limited edition Rémy Martin XO bottle, and architectural sculpture that – from certain angles – gently reveals the house's emblematic centaur motif, glimpsed through metal pillars that represent the vertical vines of Cognac.

Wallpaper*: Tell us about your journey from blacksmith to artist.
Steaven Richard: I started as a ferronnier before moving towards a more artistic metalwork career. After I had mastered all the traditional techniques, I wanted to modernise this traditional career. It was by a mixture of intuition and chance that I started introducing machines to my work (which has not been done before), and this is what allows me to create new techniques and innovative metalworks.
W*: In 2013, Karl Lagerfeld commissioned from you a textured, silver nickel parquet floor for his Chanel studio. And this project inspired the development of new tools and lamination techniques that you patented – tell us about that experience.
SR: At this time there were three companies in competition to recreate the texture of wood with metal. I differentiated my work by creating a contemporary version of the classic wooden parquet, completely different from the classic look.

It was also through this project that lead me to reflect about how to go from small artisanal production scale to a larger scale. My intuition pushed me towards machinery, but at this point in time, I did not realise the crucial change it would bring to my future works, and the direction of bigger projects it would lead me to.
W*: And now you have applied your mix of creativity and craft to this project for Rémy Martin – a limited edition bottle, and sculptural work. Before you started, what did the world of Rémy Martin mean to you?
SR: I have to admit, I knew very little before this project, I just knew the decanter of Rémy Martin XO. But as I learnt more, I was struck by the colour palette of the eaux-de-vie – it shares a strong commonality between the colours, patina, and the the golden bronze tones of my work.

W*: The Rémy Martin Maison experience is multi-sensory – taking in taste, colour, smell, light, touch and spirit – did you fully immerse yourself in the world of Cognac?
SR: Of course – I spent two wonderful, full days at the Maison Rémy Martin in Cognac before starting work.
W*: During this visit, did you notice any similarities between Rémy Martin's creative process and your own way of working?
SR: What's nice about this encounter and collaboration is in our common points, we are two companies rooted in very old traditions – Rémy Martin is a 300-year-old brand, and my industry started with the construction of cathedrals. I saw that we also echo each other after seeing the bronze in the bottles, and the vertically at Rémy Martin in the emblem of the centaur. Our ways of workings are also similar in terms of innovation and experience.

W*: You have patented new metalworking processes during your career. For this project you invented a new way to emboss brass, using your patented 'anamorphosis' process to create the Rémy Martin XO motif with a unique golden texture. Please explain how this works.
SR: In art history, anamorphosis is a regularly used optical illusion technique. For me it was a great way to integrate the centaur logo (which is very powerful) into my work, and transform it in a serene way. The motif print is done through a rolling mill machine which emboss the motif on the metal.

W* How do you feel about the finished work?
SR: The result is what I had wished for. Before the whole art piece was fully assembled, I was uncertain if the optical illusion would function exactly as I imagined, and finally this was the case – so I'm very happy.
INFORMATION
Rémy Martin XO Steaven Richard cognac, £195, available from Selfridges. For more information, visit the Rémy Martin website
Receive our daily digest of inspiration, escapism and design stories from around the world direct to your inbox
Elly Parsons is the Digital Editor of Wallpaper*, where she oversees Wallpaper.com and its social platforms. She has been with the brand since 2015 in various roles, spending time as digital writer – specialising in art, technology and contemporary culture – and as deputy digital editor. She was shortlisted for a PPA Award in 2017, has written extensively for many publications, and has contributed to three books. She is a guest lecturer in digital journalism at Goldsmiths University, London, where she also holds a masters degree in creative writing. Now, her main areas of expertise include content strategy, audience engagement, and social media.