Skin tight: leather fragrances are having a moment in the spotlight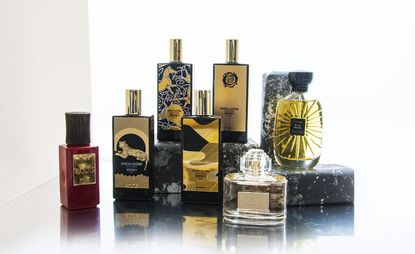 (Image credit: Hanna Pasanen)
The association between leather and perfume in Western culture goes way back. In fact, leather is one of the earliest notes in perfumery, its origins found with the Gantiers Parfumeurs, a guild of Parisian glove makers who made leather wares for the French aristocracy in the 16th century. The gloves were perfumed with oils, ambergris and civet musk, in order to mask the unpleasant smell of the leather after the tanning process.

It remains an enduringly popular scent, particularly with perfume houses known for their quality leather goods, such as Hermès, whose Cuir d'Ange ('Angel Leather') was one of the quiet triumphs of last year, full of subtle notes including heliotrope and musk.

But most leather fragrances – such as Cuir Sacré, the new perfume from Atelier Des Ors – are more dramatic; inspired by the heritage of cordovan, or gold leather, it has a leathery wood base note, with hints of vetiver and saffron, all packaged in gold.

Madrid-based Loewe is another brand with strong historic links to leather – Enrique Loewe founded his first fine-leather workshop back in 1846. The brand's latest eau de toilette, Aura, is another ode to gold – this time to the company's gold suede fabric. It's a rather more feminine take on the leather theme than Cuir Sacré, with house nose Emilio Valeros mixing redcurrant with floral notes, including rose and iris to create a fresh, elegant leather scent.

Paris-based brand Memo has taken a more animalistic approach with African Leather, with a spicy warmth derived from ingredients such as cumin, saffron and cardamom. This is the fourth edition in Memo's leather range, which also includes Irish Leather (using green maté absolute to evoke the emerald green countryside of founder John Molloy's homeland), Italian Leather (with myrrh and vanilla absolute) and French Leather, whose luscious rose base is animated by the zing of juniper.

Finally, hints of clove and dry red fruits in Nobile 1942's Rudis gives the fragrance a powerful punch that, when combined with the bold red colouring of the packaging, makes for a strong statement fragrance.

The allure of using leather as a fragrance lies in its diversity and ability to hover between masculinity and femininity with such ease. While it retains that unique unisex quality, leather perfumery is bound to keep on reinventing itself.
Receive our daily digest of inspiration, escapism and design stories from around the world direct to your inbox