The Ruinart Lighthouse illuminates art, history and Chardonnay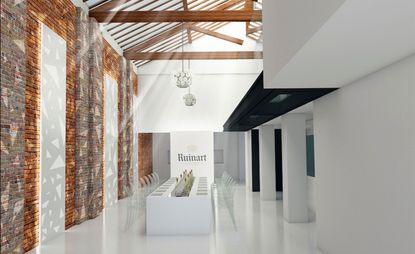 (Image credit: TBC)
From 9–11 February, work from Ruinart's six recent artist collaborations and a selection of its champagnes will come together for the first time at the 'Ruinart Lighthouse' in London.

The show – already sold out – comprises a series of sensory rooms; one chamber, for example, will offer a glimpse into the history of Ruinart champagne and the story of the Chardonnay grape. Visitors can expect to see the original Ruinart account book and its accompanying artwork here. Cellar master Frédéric Panaïotis, meanwhile, will orchestrate the tasting room at 'The Lighthouse', which will feature several classic champagnes like Ruinart's Blanc de Blancs, made with 100 per cent Chardonnay, and Ruinart Rosé, as well as some superb vintages, including Dom Ruinart Vintage 2004 and Dom Ruinart Rosé 2002.

French artist and scenographer Hubert Le Gall's 12-piece collection, The Glass Calendar: A Tribute to the Notion of Time, will also be on show. The work was created alongside the glaziers at Italian glass masters Murano. His piece focuses on man's relationship with nature, illustrating the ripening cycle of Ruinart's grapes. Le Gall admits, 'When you have a [glass] of champagne in your hand, you don't think about the work at all, you only speak about your pleasure. I want my work to look easy, but there's actually a lot of work behind it.'

Other works on display include Hervé Van der Straeten's 'Miroir' ice bucket, a silver-plated reinterpretation of an 18th century ice bucket, and Ron Arad's champagne cooler, a metalwork sculpture that produces sparkling reflections from the bottle.

The exhibition's marriage between art and champagne works so well because, as Le Gall says, they 'both speak to our physical sense,' and 'excite us and move us to another dimension, as art and champagne make life beautiful.' It seems that when it comes to indulgence, there is the pleasure of seeing art and there is the pleasure of tasting champagne. At the Ruinart Lighthouse, you can have both.
INFORMATION
For more information, visit the Ruinart website
ADDRESS
The Violin Factory
Cornwall Road
London SE1 8TJ