Daniel Simon and Benedict Redgrove on designing and shooting 'Robocar'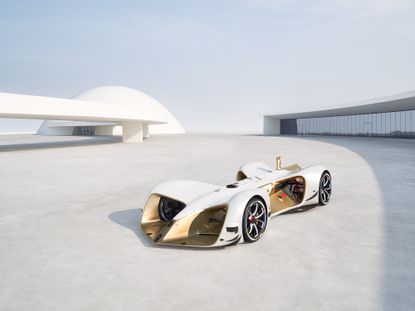 (Image credit: Benedict Redgrove)
Pitting technology against itself is a gladiatorial form of entertainment, but it's also a source of innovation and new ideas. Roborace is a forthcoming racing series designed to showcase new developments in both electric vehicle design and autonomous driving. Working in parallel with the all-electric FIA Formula E series, Roborace will deliver a dose of sci-fi design and cinematic speeds to street racing. The first dedicated Roborace car was created by Daniel Simon, a vehicle designer best known for his work in films like Tron: Legacy and Oblivion. The Syd Mead of the modern era, Simon's Robocar is a striking, stripped back piece of elemental design, shorn of the need for a human-machine interface.

These exclusive images showcase the Robocar in an all-new livery, designed in collaboration with the photographer Benedict Redgrove. Set against the stark Modernist backdrop of Oscar Niemeyer's Cultural Centre in Avilés, Spain, the Robocar is presented as an object from the near future.

We spoke to Daniel Simon about the collaboration...
Wallpaper*: How did you come to this project?
Daniel Simon: I was one of the first hires of Roborace in early 2016, tasked with leading the design and styling of an autonomous racing car, as newly appointed Chief Design Officer of the company. That vehicle, Robocar, was to be developed entirely from scratch to demo run worthiness, within months. It was an offer impossible to ignore.

W*: What have been the biggest challenges?
DS: Robocar's job is to embody the spirit of Roborace, a bold, disruptive concept for sport and entertainment. Our halo-car had to look even to the untrained eye like the most normal thing in the world – an autonomous racing car. We could not look around us to see what others are doing; we are the ones breaking new ground. Making such a complex machine operate while maintaining the clean and iconic look we designed has be the top challenge. Autonomous cars need a large array of small and large sensors. Blending them seamlessly into a fluid car skin meant adjustments to the very last day.
W*: What are the greatest opportunities of working with Roborace?
DS: If you have a career, it is easy to fall into a pattern of doing the same things over and over. That is what made you successful in the first place. But comfort kicks in, and creativity dies. I enjoy working with daring entrepreneurs, walking unchartered territory, finding answers by trying and failing and trying again. I may not always agree with all the ideas, but I feel alive. Roborace is the epitome of that.

W*: Is there any tech or forms here that could be transferred to conventional sports cars?
DS: Artificial intelligence and how we humans will interact with it can no longer be ignored by motorsport. Roborace steps into that exciting vacuum. It is a global event format to bring AI and human competition together – under extreme and entertaining circumstances. Motorsport has always influenced commercial road cars – Roborace brings that concept to the 21st century.

W*: What do you think of Benedict's imagery?
DS: I knew of Benedict's stunning work before I knew who took the pictures. Those are wonderful circumstances to meet someone. We share similar values, especially 'less is more' and the power of composition, which both applies to photography and design. We became good friends.

Here, we also discuss the project with photographer Benedict Redgrove...

Wallpaper*: How did you come to know about this project?
Benedict Redgrove: Nicola Peters and the late Justin Cooke at Roborace invited me to come meet with them with Denis Sverdlov, Roborace's CEO. We went through all their plans and talked about how this project was the start of autonomous racing. Over the following months we planned a series of ideas to showcase the car. I was given free reign to create a set of images that I loved and would be exhibited to promote Roborace.
W*: Talk us through the process of the shoot? How much post-production was involved?
BR: Initially I had really wanted to shoot this in Brasilia. The idea of the Roborace car racing through Oscar Niemeyer's futuristic city was hugely appealing, but the practicality of getting it over there was just not realistic. However, I also knew of this Niemeyer location in Spain and thought it would be perfect. It has a lot of what I wanted in it and had the essence of the sci-fi style feel I wanted. The car was moved around the location by hand. It had no power, so we were rolling to from zone to zone to get it into the right position.

The location is surrounded on one side by a mountain range and the other is a port and town. We worked on a colour palette and set to work on removing any distractions from the background. The white render finish of the architecture was made pristine in post-production. Nothing was built, it was more a case of simplification, cleaning surfaces and keeping to the original idea. The car had small amounts of retouching to allow for the handmade aspects of the body panels to fit more closely. The images work really well when they are enlarged, there is so much detail in them that gets a little lost in smaller versions.
W*: Both your imagery and Daniel's design represent a hitherto unseen future. Do you have any feelings about retro-futurism, or nostalgia for past futures, and how might they have influenced your work here?
BR: My work is heavily influenced by my love of space, sci-fi, cinema and the previous era's dreams of the future. The past's idea of a brave new world and where we were going seemed more dreamlike; now it is much more of a harsh reality. Daniel's futuristic work is something I have admired for years, and to get the opportunity to work with him directly was a bit of dream for me. You can't help but be influenced by your past loves, but I always have an eye to a real future; that's what I tried to capture here. Oscar Niemeyer's designs still look like the future today, so it seems to have been the perfect mix.

W*: This is a very cinematic approach to filmmaking. Did you ever envisage this as a film?
BR: I would have loved to have made this into a short film, and Brasilia would have been the most amazing location for it. I created the photographs to have a very cinematic look and so I feel in this case they work as "stills from a scene" and your mind can do the rest in making up the full story.

W*: Tell me a bit about how the livery came about? How were the colours chosen?
BR: Daniel and I had been liaising about various colour schemes for the car, and he was very open in asking 'what do you want to create – this is your car'. He really let me be the guide on this. We worked up quite a few and it feels quite special when you're working with someone of Daniel's ability to be asked asked what you'd like and then have it created in 3D. I love the final choice, and feel it has just the right balance of futurism and tech, along with a very tiny nod to sci-fi of the past.
INFORMATION
For more information, visit Daniel Simon's website (opens in new tab), Benedict Redgrove's website (opens in new tab), and Roborace website (opens in new tab)
Jonathan Bell has written for Wallpaper* magazine since 1999, covering everything from architecture and transport design to books, tech and graphic design. He is now the magazine's Transport and Technology Editor. Jonathan has written and edited 15 books, including Concept Car Design, 21st Century House, and The New Modern House. He is also the host of Wallpaper's first podcast.