Q&A with Chris Bangle of BMW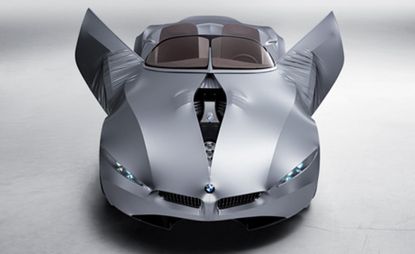 (Image credit: press)
BMW is not a follower. Under the design reign of Chris Bangle, it provoked a highly emotive reaction a few years ago by a fresh and courageous take on premium car design, and by introducing the world to 'flame surfacing'. The car maker is certain to raise a few eyebrows again with GINA, an animated cloth car that looks ahead to the future of the automobile.

W*: Where did the initial idea for GINA originate from?
Chris Bangle: The concept was the outcome of a project at our Designworks that addressed how non-car designers would design a car. It was then transported to the main studio in Munich and developed further into a demonstrative car.

W*: How did you come to a cloth outer skin conclusion?
CB: The cloth can change your mind about what a car can be. It also makes its own perfect geometry. The flexible textile offers designers a significantly higher degree of freedom in terms of design and functionality. Plus, it does what the exterior is supposed to do which is to protect the car, give it the aerodynamics and the right aesthetic.

W*: You say GINA has been the brand's doctrine for over a decade, but what is the philosophy behind the car?
CB: GINA, the German acronym roughly translates to geometry and function in an infinite number of alternatives. It was born out of the idea that change doesn't have to come from a fixed approach.

We are going to have to find new ways to adapt to how the world sees cars, what they want from them and over what lifespan. And the part that will take over is that you can consume but you have to be responsible. In this context, we have to offer a product that is more about lifestyle and personalisation statements. The idea that variation drives consumption has been one of the dominant factors of the world of design. We need to get some of the individuality of the consumer as well as the producer into the product.

W*: How do you introduce personalisation?
CB: There is no real difference in how GINA lives with you, but it differs in terms of what it could be for you, how you could change things, even to the point where you can change the shape of the exterior.

W*: What impact did GINA have initially on the company?
CB: It was like a lightening rod triggering discussions on where this could lead in terms of production and manufacturing. We questioned if mass assembly is the only way. It lead to rapid manufacturing, a way of digitally creating car parts for a fraction of the cost, that were stiffer and it made them available to more customers which we never thought we could do.

The bonnet of the Z4 M was our first digitally produced piece of hardware for a production car. This technology is called GBK, GINA im Blechkleid, or GINA in metal cloths.

W*: Has GINA influenced BMW design?
CB: Absolutely. When you enter GINA, the car wakes up around you and you can choose what functions to display. The BMW iDrive system is about the spirit of the GINA philosophy.

Also, the team worked with an origami master to explore ways of giving metal the origami treatment. In the Mille Miglia concept interior, for example, we have created a 3D structure from 2D sheets using special laser cutting and folding processes.

W*: How will GINA impact on the future?
CB: If our idea is that cars can only look like one thing then we can only make them in one way. But if we free our minds, then we can perhaps start to look at methods that use less energy, require less chemicals, cause less waste and are more flexible in getting products that customers want.

We have to decide what we want from our cars. It would be wrong to say BMW's future is cloth cars, but it does make you think about cars differently - that's the whole idea behind it.