Retail maverick Andrea Brugnoni on what's next for his Sardinian cultural district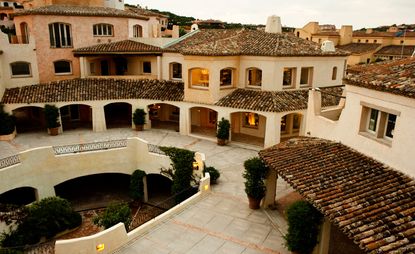 (Image credit: Press)
It's strange to think that the coastal town of Porto Cervo in Sardinia, where designer boutiques now vie over shop space, was once farming pasture that was deemed so worthless it was given to the island's peasant women to keep goats.

It wasn't until the 1960s when Aga Khan arrived and fell in love with the Costa Smeralda's sparkling waters and rugged beaches that it's glitzy transformation began. Khan created Porto Cervo from scratch, tuning it into his own personal paradise playground. Today its become a magnet for the megarich, who visit in their superyachts to do a spot of shopping and sunbathing.

While the flashy brands and showy bars entertain tourists in the old town, the area's discerning visitors head to the more artistic Promenade du Port, where retail maverick Andrea Brugnoni has spent the last 11 years carefully crafting a unique cultural destination that he says defines what luxury means today.
Art, fashion, design and food come together at Promenade du Port
Made up of around 60 retail units, Brugoni's corner of Porto Cervo combines fashion, art, food and design provided by a finely tuned balance of both emerging and established names. For instance, La Pasqualina, the Promenade's artisan gelato shop, was discovered by Brugoni at its original location in the hills of Bergamo. After tasting its Sicilian lemon gelato he invited the owners to set up a shop in the Promenade just up the hill from the Rolls-Royce showroom (reportedly one of the marque's most successful outposts) – 'both are equally important' stresses Brugoni noting the juxtaposition.

A longtime friend of the site's owner, Brugnoni personally masterminded the idea of a cultural Promenade and in the process naturally fell into the role of its creative director and business manager. 'The idea was to create something that seemed as if it had been there since 1961,' he says of the early days. 'It's been a learning curve and I'm always looking for ways to improve.'

Tanned, bearded and casually attired, Brugnoni eschews the stereotypical image of the property developer businessman. This is however is no surprise when you learn that he is the son of Milan's First Lady of design, Rossana Orlandi. In his younger days he spent his time travelling between Milan, Argentina, London, New York, France and Spain, where he learnt a thing or two about creating a retail experience, or 'a good vibe' as he prefers to call it.
Aerial view of Promenade du Port
'The culture has to come first and the commercial side will follow. The human side of it is vital,' he informs. Indeed, on his arrival at the Promenade in Porto Cervo, 11 years ago as a 26-year-old business graduate, the first thing he did was open up a small museum and the brands soon followed.

Today the promenade's village-like streets are bustling with shoppers exploring unusual stores such as Vespa Smeralda – a mecca for Vespa enthusiasts with its colorful line-up of one-of-a-kind bikes from all across Italy. Nearby, the Paci Contemporary showcases exquisite photography such as a rare set of prints of Marilyn Monroe from Bert Stern's The Last Sitting shoot in 1962. Other crowd-pleasers include the Sardinian outpost of Galleria Rossana Orlandi with its two floors of collectable design and the recently arrived Basara restaurant, which serves up a unique combination of sushi and pastry.

'There are some criteria for the retailers that have a space here,' explains Brugoni. 'The shop has to be different to what you will find in the rest of the world, there has to be a design or an architectural element and within three or four years they have to come up with a capsule collection that is sold only here.'

Next year will mark the Promenade's tenth season and Brugoni is planning ahead. 'When the season starts here each year, my mind is already working on next year. I want to continue to push brands to think outside the box – when this happens, there really is no limit.'
INFORMATION
For more information, visit the Promenade du Port website
ADDRESS
Via Aga Khan 1
07021 Arzachena