Porsche Panamera S Hybrid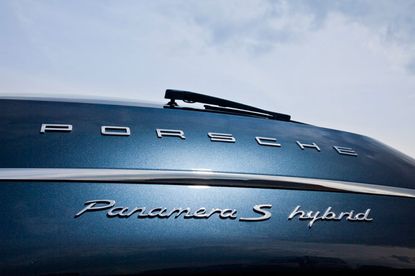 (Image credit: TBC)
Porsche puritans were distraught back in 2007 when the German marque announced its intentions to build a four-seat saloon. They had come - albeit grudgingly - to accept the Cayenne sports utility vehicle, but a sober family saloon that took design cues from their beloved 911 seemed a step too far. Stuttgart ignored their pleas however, and in 2009 we were introduced to the Panamera. It was an instant success, selling over 30,000 worldwide in just two years.
Having originally offered the car with a limited choice of powerful V6 and V8 petrol engines, for the 2011 Panamera, Porsche has added much-needed diesel and hybrid electric options.
The diesel is expected to fetch over half the sales, mainly from European customers who favour this option, while the hybrid will take around 20 per cent of worldwide sales mainly in the US and China, where hybrid cars in this premium sector are popular purchases. And it will, of course, help boost the marque's eco-credibility and reduce its overall emission figures.
Wallpaper* flew to the Scottish highlands to drive the Panamera S Hybrid - and it turned out to be an ideal location to test this car. Not the friendliest of designs at first glance, the Panamera's imposing bulk is a mere dot in this vast, wild and dramatic landscape. It feels strangely agile and sporty, yet solid here.
Inside, it offers exactly the right ambience to protect and shield from the harsh weather outside. The Panamera interior is comfortable - the beautifully upholstered seats snug, the instrument panel direct, uncluttered, simple - a façade for the complex and high-tech engineering behind the scene. This car is about subtle, confident, adult wealth and you can't help but be seduced.
The hybrid technology is the fruit of a joint effort with partner company Volkswagen - a practice that is very common in the automotive world given the complexity of these systems.
Here it comprises a 328bhp supercharged V6 engine married with a 46bhp electric motor that delivers power to the rear wheels. The electric motor, charged through the combustion engine and braking, is capable of driving the car on its own at speeds of up to 53mph for 1.25 miles after which the engine kicks in. It is a perfect combination if your daily journey mainly involves low speed city driving with a little highway commute thrown in.
The Panamera S Hybrid isn't a slow car either. It can sprint from 0-62mph in just 6 seconds yet with added eco functions such as stop/start and coasting, where the car runs itself at very low speeds in heavy congestion, it claims to offer the lowest CO2 emissions of any Porsche car at just 159g/km and reasonable fuel economy of 41.5mpg.
Yet driving this car you would hardly register that under this great hulk of metal there lies a part-electric engine. It feels smooth and quick, and sails effortlessly across the rough tarmac of northern Scotland.
The Panamera isn't a showy car. Even its imposing figure is primarily a demonstration of physical strength and engineering excellence - in this sense it is an utterly German design. The Hybrid is all this with an added declaration that a powerful V6 Porsche need not mean a self-centred egoistic driver, but one that will pay well above the asking price for a vehicle that is kinder to the environment.