Beauty rituals: Paulin Paulin Paulin puts a new face on Aesop Paris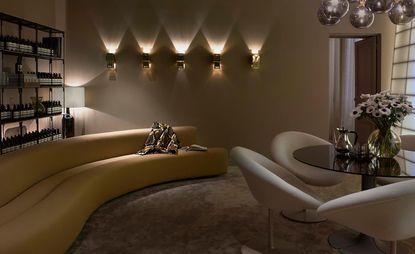 (Image credit: press)
Their ingredients may or may not be organic (they famously want to be known simply as 'natural and scientific') but the business strategies of Aesop, the Australian global skincare brand, certainly are. Though just entering its fourth decade, and bought from its Melbourne-based founder Dennis Paphitis in 2013 by Brazilian company Natura, it moves and evolves fluidly, marching to its own tune, and not, seemingly, to any commercial timetable. Historically, Paphitis only moved things on when he felt good and ready – and his perfectionism meant the skincare brand didn't branch globally into treatment therapies until after it was sold, so concerned was he about quality control at a geographical distance. Even now, when Aesop has stores in 44 countries, only in Melbourne, Sydney, Tokyo, Hong Kong, Richmond (London) and Hamburg can you get a facial.
This week, treatments come to Paris for the first time. It's not a permanent arrangement – it's another organic development that has come about through a chance link up with the family of Pierre Paulin, custodians of the iconic French designer's archive. The pop-up is occupying the skincare's European HQ, off a courtyard behind the French capital's famous fashion strip, Rue du Faubourg St Honoré, and transformed into a zen-like series of carpeted chambers ending in a treatment space for facials.
The venture took shape after Benjamin Paulin passed by the Condorcet store in Paris' 9th arrondissement and spotted one of his father's chairs in the window. Intrigued to see such exquisite attention to design in a cosmetics store, he contacted Aesop and a relationship developed. Aesop has always worked on the belief that a well-considered environment contributes positively to the health of the self and skin, so the pair-up was perfectly in keeping with company philosophy. The temporary interior is a collaboration between in-house architect Jean-Philippe Bonnefoi and Paulin Paulin Paulin, the company set up by Benjamin, his mother and his wife to manage his archive.
A screen made from panes of wax covers the windows and diffuses the daylight, distancing those inside from the bustle of central Paris. The colour scheme is beige, but far from being boring, all possible variations of the shade are layered and juxtaposed, keeping the colour so typical of wellness environments fresh and modern. The Paulin pieces selected by Paulin Paulin Paulin come from across the decades (a chair designed in 2008 sits alongside a pouf from 1959) and from manufacturers such as Artifort, the Dutch company that has produced his work since the 1960s; Ligne Roset, which has edited his work more recently and which created a special colour of the 'La Bibliotheque Fil' shelving for the project; and La Cividina, which makes the statement 'Osaka' sofa in the middle room. Soon-to-be reissued lights from Paulin's 'Elysée' collection will be added when ready. There are even some pieces that have come from Benjamin's own apartment, since they have not been reissued, and yet they fit the spot.
Treatments must be booked in advance, and six facials are available. However, the exact treatment won't be selected prior to the consultation, which takes place on the 'Osaka' sofa over an Aesop brew. With only one customer booked to use the space at a time, it makes for a truly intimate, personalised experience.
Taking bookings from now until mid-May, the address is also to be used for certain events and workshops connected to Aesop and Paulin Paulin Paulin. From May, Aesop staff will be reclaiming their office, but we are rather hoping they will find a way to maintain the current arrangement.
INFORMATION
For more information, visit the Aesop website (opens in new tab)
ADDRESS
Aesop
205 rue Saint-Honoré
75001 Paris