Nike and Concrete Objects are on a mission to lift Hackney's community spirit
Designed by Concrete Objects' Samuel Ross and Jobe Burns, the Swoosh brand's first foray into furniture is inspired by East London architecture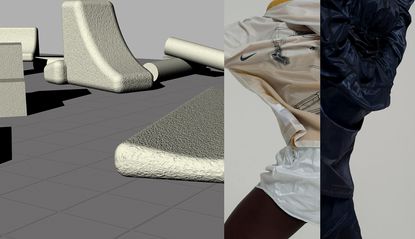 (Image credit: Courtesy of Nike and Concrete Objects)
Nike recently joined forces with London design studio Concrete Objects to engage East London's community spirit ahead of the Hackney 5k. For the race day – which took place over the weekend on 18 May – designers Samuel Ross and Jobe Burns were tasked with creating the finisher t-shirt, participant medal, as well as the start and finish gantry and a post-race rest area for runners.

It's new territory for Ross and Burns, who are known for their homeware and furniture collections crafted through a brutalist lens. The pair founded their sculptural art-based practice in 2017, citing Bauhaus, and Zaha Hadid among their inspirations. For the Hackney 5k, they turned their gaze directly to the neighbourhood: the medal, for instance, takes its seemingly abstract shape from the boundaries of the borough, while the materials nod to the pebbledash buildings that are prominent in the area.

The designers themselves had recently taken up running, which informed their approach to the project for Nike. 'We tend to run in solitude as most people do when they run through a city,' explains Ross. 'With the [race] being the veins and heart of the community, we wanted to find a way to socialise the experience.' They took the idea of a medal and explored how to turn it in a sculpture, which the pair say is closer to their process. The resulting object is based on an abstract map of the borough of Hackney.
RELATED STORY
Ross and Burns were also interested in translating the idea of movement in static objects, looking at ergonomic shapes and the body, and how people worked out pre and post-race. This is most apparent in the limited-edition tee, which is emblazoned with the slogan 'Ergonomic study for local movement' printed across it (and a CAD illustration of the gantry on the rear).

For the rest area, the pair devised a series of modular soft-play pieces from recycled PVC and upcycled foam, that also adorned the the gantry. 'It felt interesting to make something that was socially-led, rather than from the perspective of a fashion deity, or designers speaking down to the people,' adds Ross. 'This is a really equal conversation.' The mission to get Hackney's denizens moving doesn't end there: each element of the gantry and post-race area will be gifted to the local community after the Hackney 5k.
INFORMATION
For more information, visit the Nike website (opens in new tab) and the Concrete Objects website